Make Pakistan darling for a year, asks CJP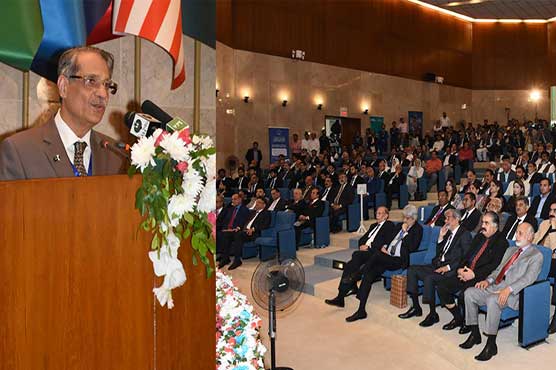 Justice Nisar said that there should be a council regarding Diamar Bhasha Dam
ISLAMABAD (Dunya News) – Chief Justice of Pakistan (CJP) Justice Mian Saqib Nisar on Saturday asked the people of Pakistan to make the country their darling for a year as we have earned this country with sacrifices and not through gift.
Talking to the participants during first session of the second day of International Symposium on Creating a Water Secure Pakistan in Islamabad on Saturday, he said that the people of Pakistan should know what their rights are, adding that he would continue struggle for the provision of basic rights to the people.
The CJP said that the construction of water reservoirs is a collective responsibility of the nation, adding that all stakeholders should move forward to achieve this goal.
Justice Nisar said that there should be a council regarding Diamar Bhasha Dam.
He said WAPDA is an important institution regarding water storage but this responsibility should not be laid merely on it.
Sartaj Aziz said that the CJP had highlighted the issue on time. "It is mandatory to evolve consensus among provinces for the resolution of water issue. Reforms in institutions are impossible without consensus. We will have to allocate more financial resources for the resolution of the water issue," he said.