Experts deliberate on water resource management on Day 2 of symposium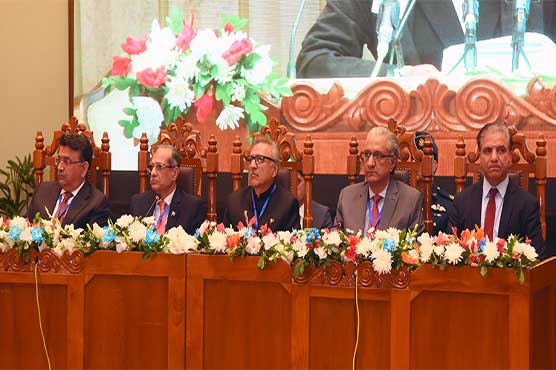 CJP Saqib Nisar will chair the concluding session of the moot.
ISLAMABAD (Web Desk) – International symposium on 'Creating a Water Secure Pakistan' is underway on second day at Supreme Court (SC) with experts both from home and abroad are deliberating upon many water related topics.

The participants are pondering over the issues like water resource management, legal aspects of Indus Basin Treaty and the construction and financing of the dams.

Sources told that Chief Justice of Pakistan (CJP) Mian Saqib Nisar will chair the concluding session of the moot in evening.

Earlier, President Arif Alvi, who inaugurated the moot on Friday, stressed the need for the construction of water reservoirs and conservation and better management of water resources.

While addressing the event, CJP Nisar said that water is life and arduous efforts are needed to save the country from becoming water scarce.

Humans can live without food, but cannot survive without water, he added.

CJP said the sensitization of issue at the national level has made the nation realize the importance of water conservation and management. Even in ordinary day life, people have started thinking of not to waste this precious source of life, said the top judge.