Zainab murder case: Convict Imran Ali to be hanged today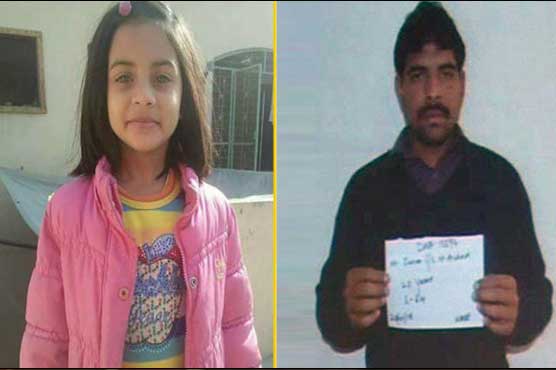 Imran Ali will be hanged in the Central Jail Kot Lakhpat at 5:30am.
LAHORE (Dunya News) – Imran Ali, convicted of raping and murdering seven-year-old Zainab and several others, will be hanged in the Central Jail Kot Lakhpat today at 5:30am.
Zainab's father Haji Amin Ansari through his counsel Ishfaq Chaudhry had requested a two-member bench of the Lahore High Court comprising Justice Sardar Shamim Ahmed Khan and Justice Shahbaz Ali Rizvi to pass orders for public execution of Imran Ali.
Chaudhry while presenting his arguments said Section 22 of the Anti-Terrorism Act allows for public execution. The LHC bench, however dismissed the plea – saying it was the prerogative of the government to decide on the place of execution.
Earlier on Tuesday, around 20 to 30 members who were said to be Imran Ali's family members and relatives met the convict in the Central Jail Kot Lakhpat.
The family members were only allowed to shake hands with Imran Ali through a window during their meeting which lasted for an hour as the family requested jail authorities to extend the time from 45 minutes.
Talking to media after the meeting, Imran Ali's relative Ali Muhammad said the family never went to Kasur after the incident. He added that Imran requested his aunt to look after his mother.
In February 2017, an anti-terrorism court handed down death penalty to Imran on four counts after he was found guilty of rape and murder of Zainab. A fine of one million rupees was also slapped on the convict alongside a sum of one million as blood money.
On June 12, Supreme Court Chief Justice Saqib Nisar had turned down his plea against death sentence in rape cum murder case of seven-year-old Zainab Ansari.
Chief Justice Saqib Nisar had taken suo motu notice of delay in implementing sentence of convict. The trial, which was held in the special anti-terrorism court, came to be known as one of the fastest to be concluded in the judicial history of Pakistan.
Zainab was found dead on January 9, 2017 in Kasur district near Lahore several days after her disappearance.
Imran was arrested two weeks after he committed the crime that ignited nationwide protests. Taking suo moto notice, the CJP ordered the concerned authorities to submit report within 24 hours.
The rape and murder of Zainab Ansari was the 12th such case in Kasur district in 2017.