By-elections 2018: PMLN in opposition upsets PTI in government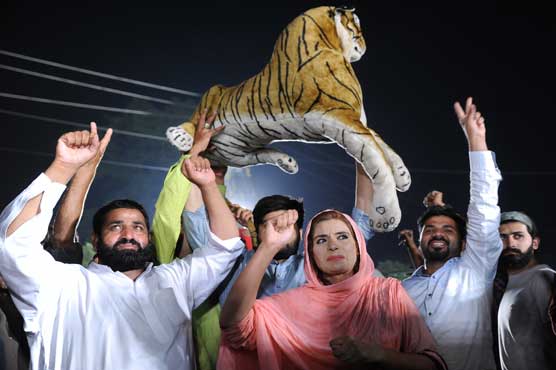 PTI has seen major upset and a neck-to-neck competition in many of the constituencies.
(WebDesk/DunyaNews) – By elections 2018 results became a bare distress and shock for the ruling part, Pakistan Tehreek-e-Insaf (PTI). According to the unofficial results, PTI lost three out of six of its easily secured seats in general elections 2018 in bye-elections 2018 held only after two and a half month, and with a widen difference of votes.
---
PMLN upsets PTI
PTI had seen major upset in three of the National assembly seats and a neck-to-neck competition in many of the National, Punjab and KP assembly constituencies. The ruling party or its allies have also failed to secure any provincial constituency in Sindh and Baluchistan.
Also Read: By-elections 2018: Result of six constituencies can take a U-turn, margin is so close
By-elections were held in the 11 National Assembly constituencies. In a neck to neck competition with PML-N, PTI could secure four seats only, which include: NA-53, NA-60, NA-63 and NA-243. While the government's ally Pakistan Muslim League (Q) successfully secured their home ground two seats, NA- 65, NA-69.
On the other hand, the major opposition party PMLN even in severe political situations, lack of leadership and accountability drive after them in the incumbent government took four NA seats of the following constituencies; NA-56, NA-103, NA-131 and NA-124.Opposition ally MMA also bagged one seat NA-35.
Also Read: By-election 2018 results: PML-N, PTI win four NA seats each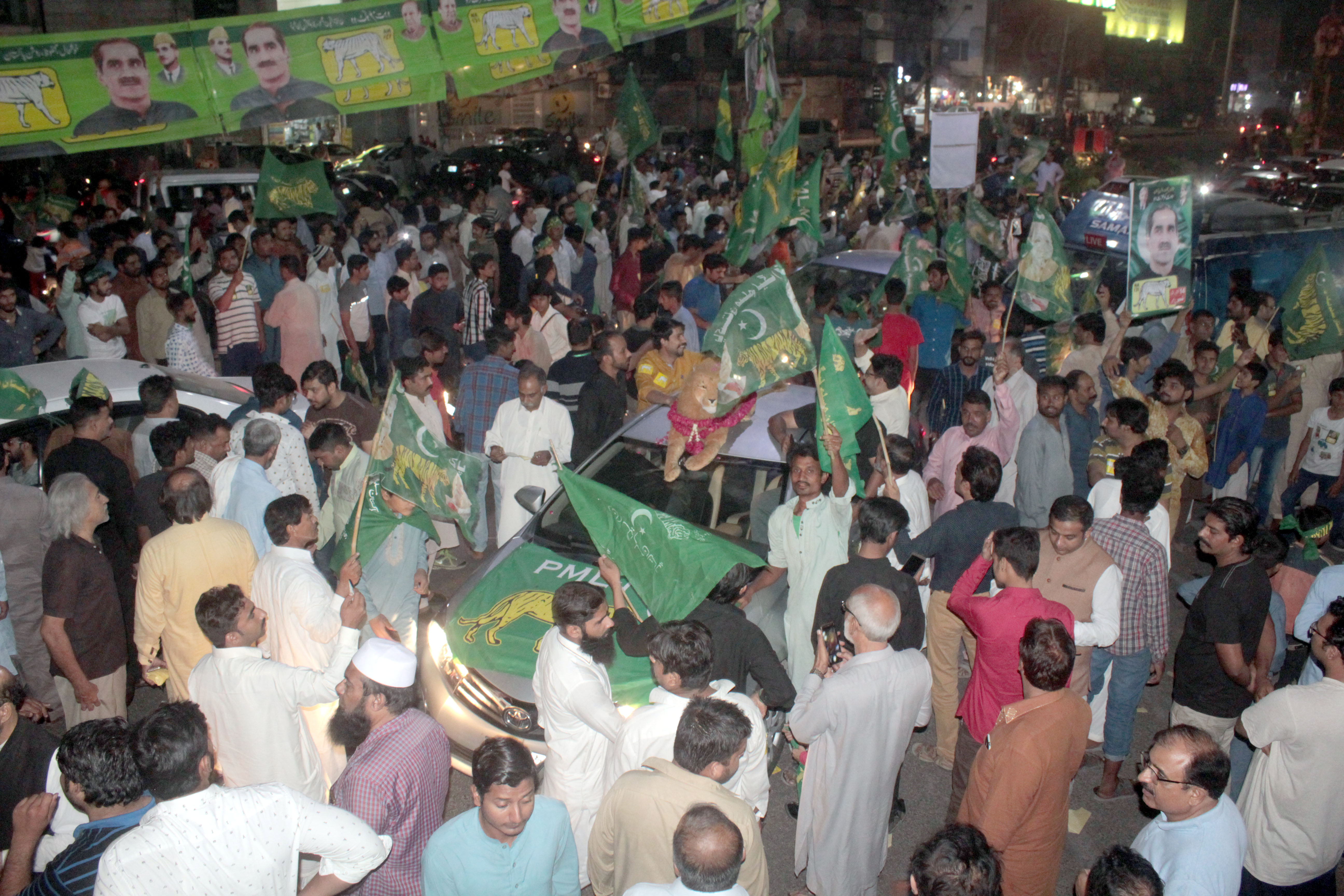 ---
PTI could not defend seats vacated by PM Imran Khan
The two of the most interesting constituencies were NA-131 and NA-35 which were earlier won by PTI Chairman Imran Khan just two months back in the general election 2018. Voters in two constituencies – NA-131 Lahore and NA-35 Bannu – changed their mind and elected members of the opposition parties.
PMLN's Saad Rafiq took NA-131
The most tough and nerve-wrecking competition has been observed in NA-131 where PMLN's loyalist Khwaja Saad Rafiq after giving a defeat to PTI's Humayun Akhtar Khan, has again paved his way to the National Assembly. Kh Saad grabbed 60476 votes and thumped his PTI opponent Humayun Akhtar with a lead of 10,000 votes. Akhtar managed to bag only 50456 votes.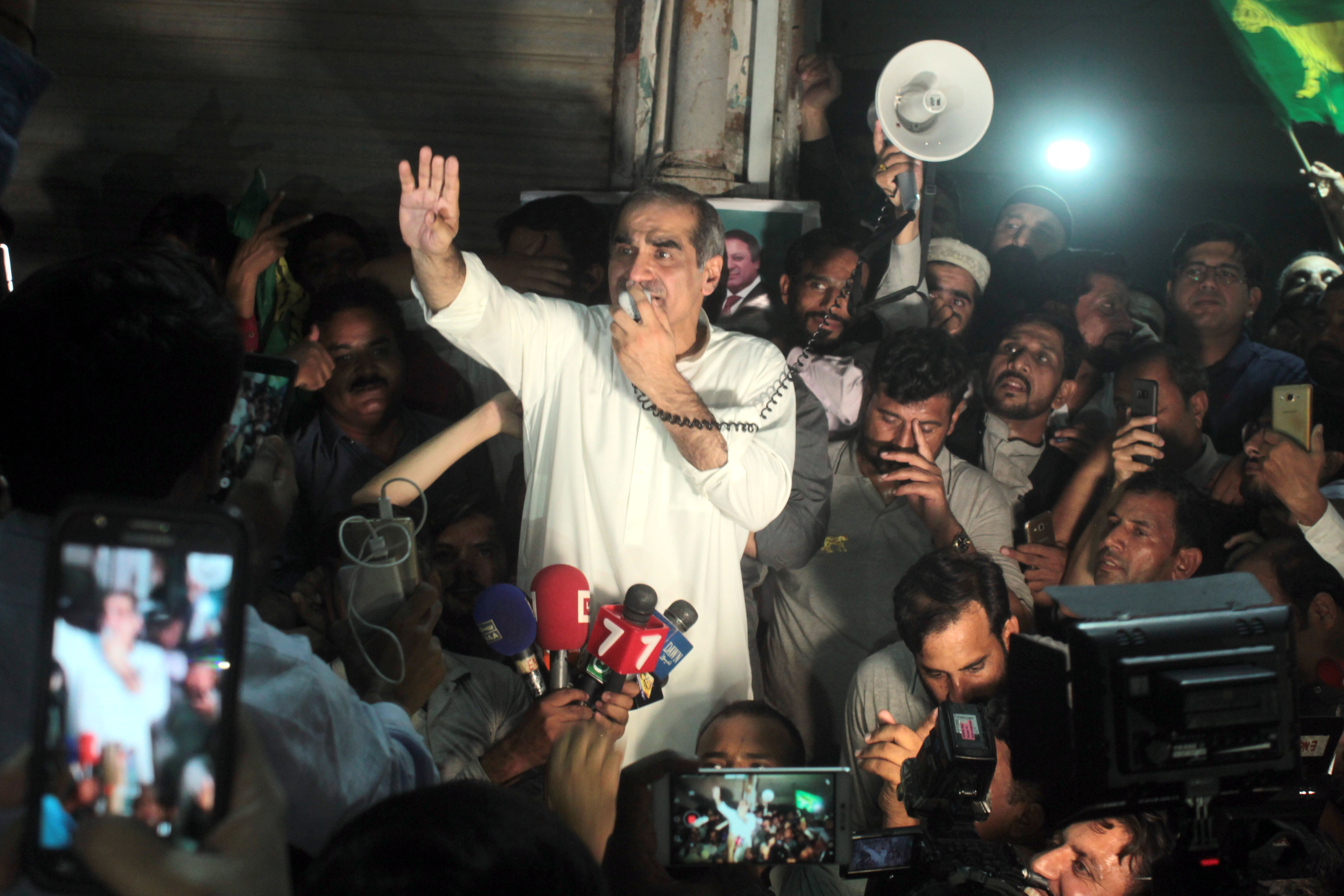 Khawaja Saad Rafiq clinched a historic vistory in by-elections 2018. Photo: APP
---
MMA's Zahid Durrani took NA-35
Other fiercely contested seat was NA-35 Bannu which PTI failed to retain despite it was vacated by PM Imran Khan with a massive number of votes. Opposition ally Mutahida Majlis-e-Amal candidate Zahid Akram Durrani of the Muttahida Majlis-e-Amal (MMA) won the seat by acquiring 60,944 votes against PTI s Naseem Ali Shah who bagged 36, 908 votes. PM Imran Khan earlier secured the seat in general elections 2018 with 1, 13, 822 votes.
PTI could not retain NA-56 as well
NA-56 Attock came out as another disappointment for PTI. Malik Sohail Khan of the PML-N won with 115,273 against Malik Khurram Ali Khan of the PTI, who bagged 80,092 in NA-55 Attock by-election 2018. The seat was earlier vacated by PTI leader Tahir Sadiq.
---
PMLN defended well and retained NA-124
PMLN though well defend their strongholds, gave tough competition to PTI and has retained not only NA-124 - seat vacated by PMLN president Shahbaz Sharif also grabs more seats in National Assembly and Punjab Assembly.
Pakistan Muslim League Nawaz's (PML-N) leader and former prime minister Shahid Khaqan Abbasi on Sunday won by-polls on NA-124 - the seat vacated by Hamza Shahbaz who in last electios has defeated PTI cndidate with a margin of 60, 000 votes. Abbasi comfortably defeated his Pakistan Tehreek-e-Insaf's (PTI) opponent Ghulam Mohiuddin. Abbasi secured over 75012 votes whereas his opponent managed only nearly 30456 votes.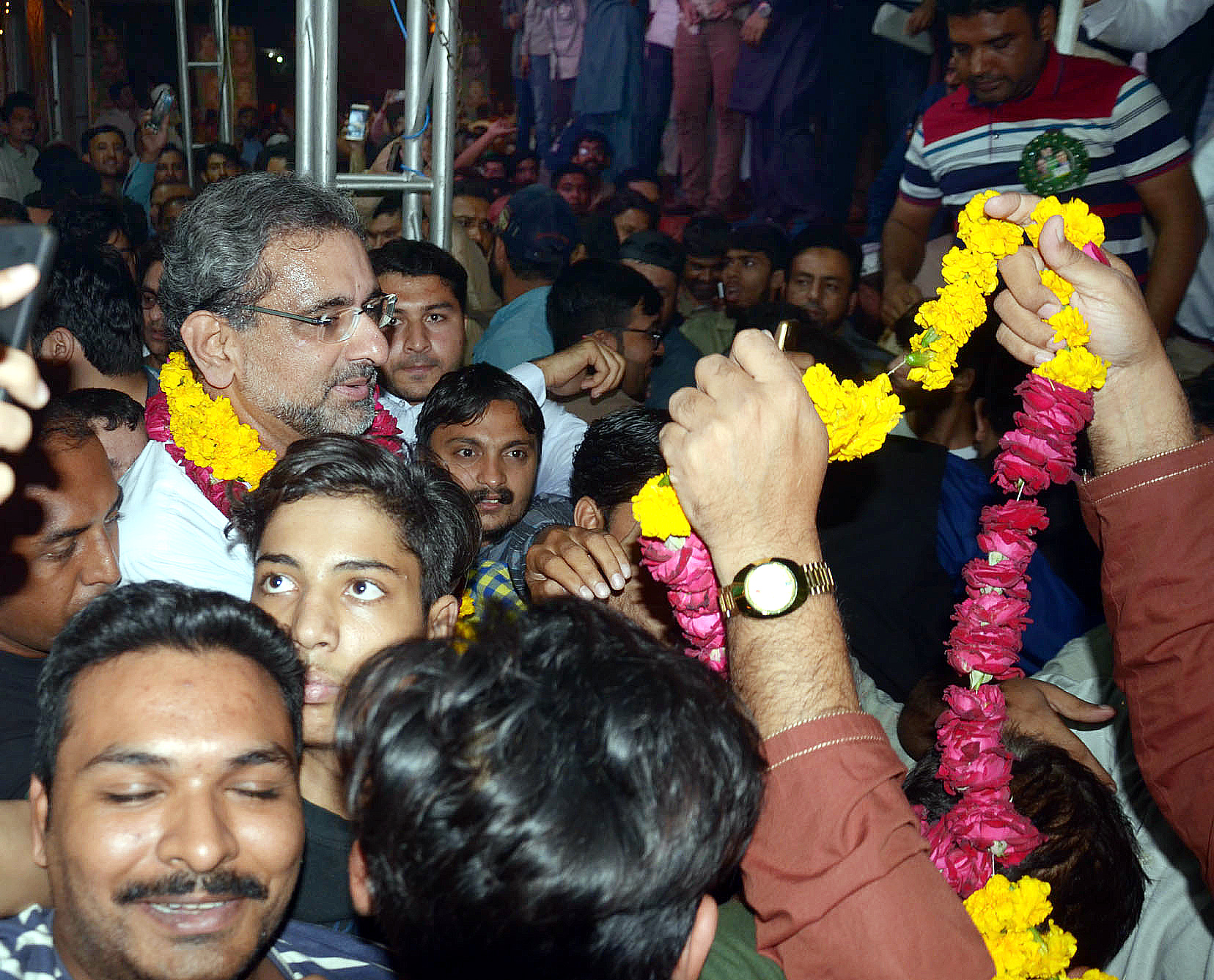 Party workers were overwhelmed at the magnificient victory of former Prime Minister Shahid Khaqab Abbasi. Photo: APP
---
The latest gain improves major opposition party PMLN position in national and provincial legislative assemblies. With taking four seats in National Assembly, PML-N won six more seats In Punjab as compared to four of the PTI's, while independents emerged victorious from two constituencies. The PTI won PP-87 constituency unopposed, while the PML-N won PP-3, PP-22 and PP-118, which were won by the PTI in the July 25 general election.
Winning bye-elections by the ruling party remained a tradition though interestingly the ruling party Pakistan Tehreek-e-Insaf (PTI) not only has strongly been confronted by the opposition parties in many constituencies, they also have managed to take away the many strongholds of PTI.
---
Translated and Edited by Mehreen Fatima