CJP snubs NAB DG over handcuffing PU's faculty members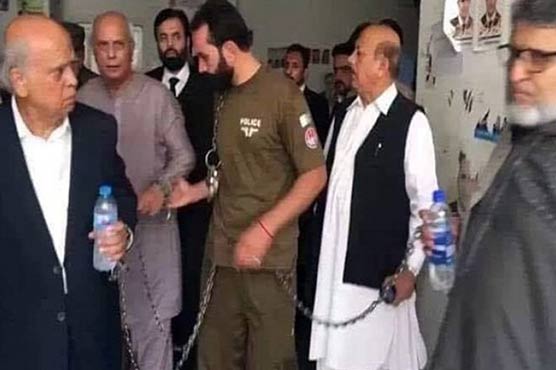 What is your progress apart from ridiculing people, remarked CJP.
ISLAMABAD (Dunya News) – Chief Justice of Pakistan (CJP) Justice Saqib Nisar on Saturday snubbed National Accountability Bureau (NAB) director general Lahore Saleem Shehzad over handcuffing aged faculty members of Punjab University (PU).
As per details garnered, CJP resumed hearing of the suo motu case here in Supreme Court (SC) Lahore registry.
As the hearing went underway, CJP expressed exasperation over the hapless incident and inquired, "Under which law you mortified the teachers? Relinquish from the post if you are unable to perform your tasks efficaciously".
To this, DG NAB cited security reasons for handcuffing former vice-chancellor Mujahid Kamran. Shehbaz also informed court that he had sought forgiveness from Mujahid Kamran and other faculty members personally.
Later, DG NAB burst into tears and submitted unconditional apology in the top court. However; CJP wasn't moved as he remarked, "Now that it has come to you, you are crying".
"What is your performance apart from ridiculing people", remarked CJP.
CJP made it overtly clear that apex court would not tolerate mortification of teachers.
NAB on Thursday had arrested former vice-chancellor of Punjab University Mujahid Kamran over alleged administration and financial irregularities.
The anti-graft watchdog had also nabbed four former registrars and an additional registrar in the case.
Mujahid Kamran has been accused of hiring people illegally and granting contracts to undeserving companies.
NAB officials will produce Kamran on Friday before accountability court.