Sub-Inspector torture case: CJP Nisar threatens to resign over lawyers' protest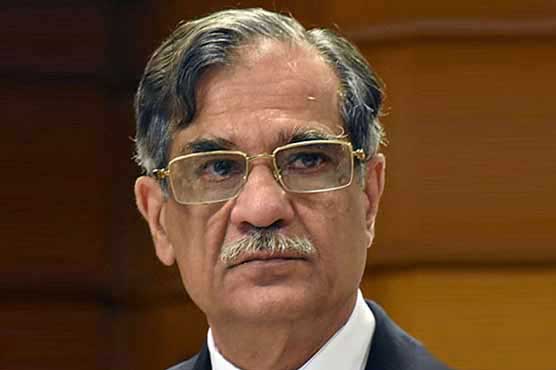 CJP reprimanded the lawyers for chanting slogans in the courtroom.
ISLAMABAD (Dunya News) – Chief Justice of Pakistan (CJP) Mian Saqib Nisar on Saturday has threatened to resign as lawyers staged protest during the hearing of sub-inspector torture case.

According to details, Lahore Bar secretary Sohail Arshad prayed to Supreme Court (SC) to dispose of FIR lodged against the lawyer as he did not assault the policeman.
The top judge rejected the request and said that he will tender resignation if he fails to ensure justice. He also expressed deep anger over lawyers chanting slogans agianst 'father' in the courtroom.
Meanwhile, the Lahore Bar secretary said that they will continue to protest outside the court if the CJP won't dismiss FIR against the fellow lawyer.

Later, addressing a ceremony, the top judge said that Pakistan enjoys best democratic system and that taking suo motu actions for the resolution of public issues is responsibility of the judiciary.

He also clarified that no step against the supremacy of the Constitution will be tolerated.