Last Updated On 10 October,2018 08:24 pm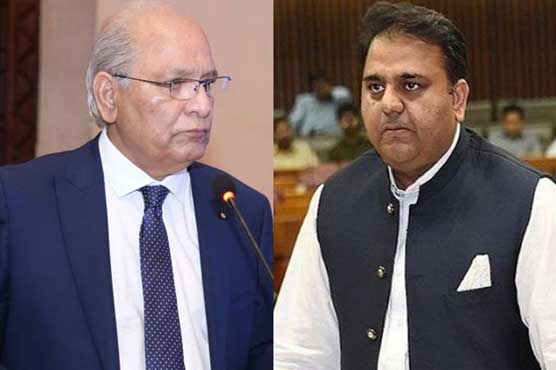 Fawad Chaudhry again lashed out at Mushahidullah
ISLAMABAD (Dunya News) – Ruckus marred the session of the Upper House of the Parliament on Wednesday after an exchange of harsh words between Federal Minister for Information and Broadcasting Fawad Chaudhry and Pakistan Muslim League-Nawaz (PML-N) leader and Senator Mushahidullah.
Senate again witnessed an uproar following exchange of harsh words between the minister for information and the PML-N Senator.
Fawad Chaudhry again lashed out at Mushahidullah to which Senate Chairman Sadiq Sanjrani asked the PTI leader to apologize.
Minister for Information Fawad Chaudhry said that a total of 1,63,000 employees including those sacked in 1996 were regularized by the Committee headed by PPP leader, Syed Khursheed Ahmed Shah.
Reacting to PML-N leader Mushahidullah Khan's claim of incorrect information about employment of his relatives in PIA by the Information Minister, the Minster said the opposition should demonstrate patience and listen to the people on the treasury benches.
The PML-N leader demanded Chaudhry to tender an apology, to which the PTI leader said why would he apologise, adding that the matter of Mushahidullah getting members of his family recruited into Pakistan International Airline (PIA) was being investigated by the Federal Investigation Agency (FIA).
The Senate chairman also asked Leader of the House Shibli Faraz and PPP Senator Mian Raza Rabbani for help but the clash continued.
On October 3, Senate Chairman Sadiq Sanjrani had adjourned the Senate session after opposition protests against Minister for Information and Broadcasting Fawad Chaudhry who again launched criticism against Pakistan Muslim League-Nawaz (PML-N) leader and Senator Mushahidullah.
The PML-N senator had demanded the federal minister to apologise over his remarks, saying Fawad Ch accused him of appointing his brother and cousin in top posts in Pakistan International Airlines (PIA) when his party was in rule, which the PTI leader rejected.
Following a heated debate, rumpus erupted in the Senate when opposition staged protest which forced the chairman of the House to adjourn the session.
On September 27, the minister for information had apologised to members of the opposition after they staged a brief walkout from a National Assembly session in protest over his "derogatory remarks".
Earlier, Fawad Chaudhry had lashed out at PPP and PML-N in National Assembly and called them "dacoit."
Criticizing former opposition leader Khursheed Shah in the National Assembly, Fawad said the former ruler(s) bankrupted the country and 'they must be hanged upside down' for this crime.