Process of accountability to continue unabated: Fawad Ch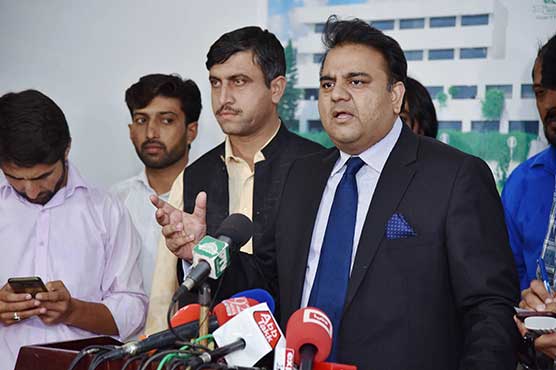 PTI has always remained a revolutionary party and will remain so in future too
ISLAMABAD (Dunya News) – Federal Minister for Information and Broadcasting Fawad Chaudhry on Monday said that the Pakistan Tehreek-e-Insaf (PTI) government would not launch revenge actions against anyone but the accountability of thieves and dacoits will continue.
Talking to media outside the Parliament House in Islamabad on Monday, he said that the Leader of Opposition in National Assembly Shehbaz Sharif had been arrested by the National Accountability Bureau (NAB) and not by the government, adding that the federal government has nothing to do with this case.
"The anti-graft watchdog had also made cases against the ruling party leaders," he added.
Chaudhry went on to say that the process of accountability will continue unabated despite the rumpus in Parliament by opposition, adding the attitude of opposition was undemocratic and they need to change it.
"People have voted PTI to power to bring change and recover the looted money," the minister said and added the PTI government was committed to not only bring back the looted money from abroad but also bring reforms in institutions.
The minister said: "PTI has always remained a revolutionary party and will remain so in future too and will win with overwhelming majority in the upcoming bye-elections."
Earlier, speaking in the Senate, he said that opposition should not get worried after the prime minister's announcement to arrest people involved in looting the national kitty.
The minister said that Pakistan Muslim League (PML-N) had appointed Saif-ur-Rehman as the chairman National Accountability Bureau for conducting accountability.
He pointed out that former prime minister Benazir Bhutto was politically victimized during the PML-N's tenure by the then chairman NAB appointed by the PML-N, adding that it was strange that the perpetrators of targeted accountability in the past were now calling for a transparent accountability system.
Why the Opposition was now so much worried when the prime minister talked about arresting those thieves, who had looted the national kitty, he questioned. The country could not move on the road to progress, prosperity and development without ensuring transparent accountability and justice system, he added.
The minister condemned those involved in criticizing the law enforcement agencies and said that he belonged to the district which had 347 martyred personnel. "Every village of the Jhelum has a Ghazi and all of us are pound of it," he added.