Last Updated On 05 October,2018 10:51 pm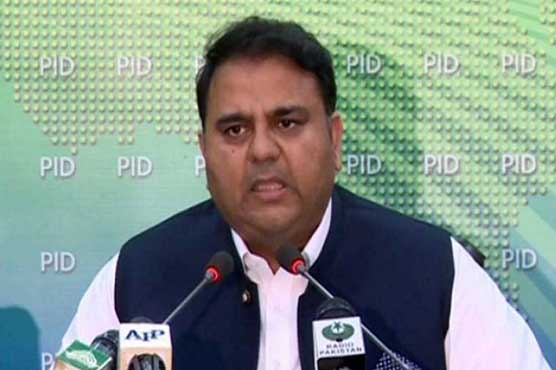 No decision has been made regarding placing names of the PML-N leaders on the ECL
LAHORE (Dunya News) – Federal Minister for Information and Broadcasting Fawad Chaudhry on Friday denied reports of placing Pakistan Muslim League-Nawaz (PML-N) leaders Khawaja Saad Rafique and Khawaja Salman Rafique s names on the Exit Control List (ECL).
In his tweet on Friday, Chaudhry said that no decision has been made regarding placing names of the PML-N leaders on the ECL.
He said that the National Accountability Bureau (NAB) is an independent institution, adding that the federal government will support the NAB as per law.
Earlier, reports emerged that the names of Khawaja Saad Rafique and his brother and Khawaja Salman Rafique had been placed in the Exit Control List (ECL).
The PML-N leaders had been asked to appear before the anti-graft watchdog on October 16, while the Bureau's Lahore chapter also directed them to bring the money trail along with them.
The inclusion of Khawaja Saad Rafique and Khawaja Salman Rafique's names in the ECL was confirmed by Punjab Information Minister Fayyazul Hassan Chauhan.
He said that Paragon City (Pvt) Limited, which is said to be owned by Railways Minister Saad Rafique, is the beneficiary of the Ashiana Housing Scheme.
The minister went on to say that ex-prime minister Nawaz Sharif's prinicipal secretary Fawad Hassan Fawad has become approver.
It is pertinent here to mention that the anti-graft agency had summoned Khawaja brothers last Friday, however, they refrain from appearing before the investigation team due to by-elections.
In Novermber last year, the NAB had launched investigation into a mega land scam involving the railways minister Khawaja Saad Rafique's Paragon Housing Society in Lahore and the Punjab Land Development Company (PLDC).
The Bureau had decided to initiate probe into the matters of the minister's housing society after receiving a number of complaints regarding 'illegal deal' involving 3,000 kanal government land between the PLDC and the said companies.