Last Updated On 03 October,2018 09:51 pm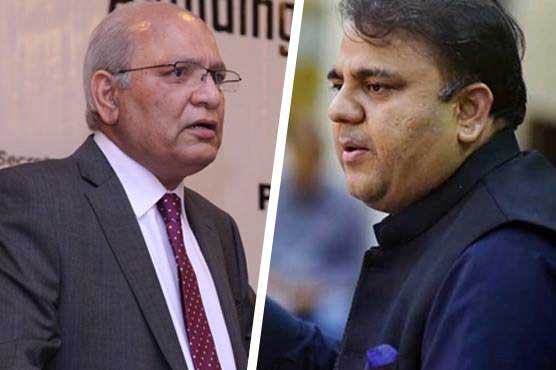 The PML-N senator demanded the federal minister to apologise over his remarks
ISLAMABAD (Dunya news) – Senate Chairman Sadiq Sanjrani on Wednesday adjourned the session of Upper House of the Parliament after opposition protests against Minister for Information and Broadcasting Fawad Chaudhry who again launched criticism against Pakistan Muslim League-Nawaz (PML-N) leader and Senator Mushahidullah.
The clash between Federal Minister for Information and Broadcasting Fawad Chaudhry and Senator Mushahidullah could not end after the federal minister again criticised the PML-N leader during Senate session.
The PML-N senator demanded the federal minister to apologise over his remarks, saying Fawad Ch accused him of appointing his brother and cousin in top posts in Pakistan International Airlines (PIA) when his party was in rule which the PTI leader rejected.
Following a heated debate, rumpus erupted in the Senate when opposition staged protest which forced the chairman of the House to adjourn the session.
On September 27, the minister for information had apologised to members of the opposition after they staged a brief walkout from a National Assembly session in protest over his "derogatory remarks".
Earlier, Fawad Chaudhry had lashed out at PPP and PML-N in National Assembly and called them "dacoit."
Criticizing former opposition leader Khursheed Shah in the National Assembly, Fawad said the former ruler(s) bankrupted the country and 'they must be hanged upside down' for this crime.