Last Updated On 03 October,2018 07:13 pm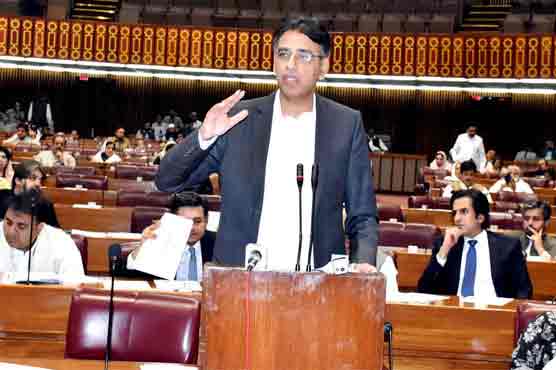 Umer says Balochistan govt was taken on board on the issue of potential Saudi investment in Reko Diq
ISLAMABAD (Dunya News) – Finance Minister Asad Umer on Wednesday said that Pakistan Tehreek-e-Insaf (PTI) government will strengthen federation and will take smaller provinces along.
Speaking in the Senate on Wednesday, he said that the China-Pakistan Economic Corridor (CPEC) project was signed in 2013 but the provincial government was not made partner even after one year.
He said that the they were informed after two and a half years that the projects under CPEC had been signed.
Asad Umer while dispelling the impression that a third country was being made a strategic partner said that CPEC was a bilateral project between Islamabad and Beijing and both countries will set its strategic direction.
"During Chinese Foreign Minister's visit to Pakistan last month, it was agreed that third countries can be invited for investment in individual projects," the finance minister said and adding no decision has been made to add more strategic partners to the CPEC.
Umer said that the members of Balochistan government were taken on board on the issue of potential Saudi investment in Reko Diq and Gwadar.
"We do not agree with Hasil Bazenjo regarding Reko Diq who said the federation had nothing to with Reko Diq project," he said and added the federation can give its suggestion on the project.
Winding up debate on Finance Supplementary (Amendment) Bill, 2018, Asad Umer said that the recommendations regarding changes in tax slabs will be implemented from July 1,the beginning of financial year.
Regarding the issue of filer and non-filer, he said overseas Pakistanis do not need to become a filer as their stay in the country is usually less than 182 days in a year. He said an exemption has also been allowed in inheritance cases of overseas Pakistanis and now they can inherit their share.
The minister said: "It has been decided that motorcycles under 200 cc can be bought by non-filers too, as they are bought by people from lower middle strata of the society."
Asad Umar said tax exemptions to FATA and PATA have been extended for five more years, as approved by the cabinet. He said one thousand billion rupees will be given to FATA additionally in next ten years.