Hundreds of Qatari-owned luxury vehicles illegally imported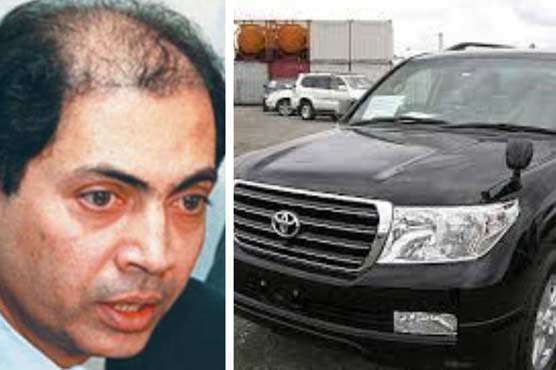 As many as 330 luxury cars were illegally imported over a period of six years.
ISLAMABAD (Dunya News) – At least Rs4.5 billion in import duty on luxury vehicles recovered from a compound in Rawalpindi were waived from 2012 to 2018, customs record revealed Friday.
As many as 330 luxury cars were illegally imported over a period of six years out of which 233 were brought to Pakistan at the behest of of Jassim family.
As per details, sixty one cars were shown in papers under the ownership of Hamad bin Jassim, his son Tamim bin Hamad (72), grandson Faisal bin Hamad (24), and brother Shaikh Falah bin Jassim (101).
Moreover, authorities Friday recovered two more luxury vehicles allegedly belonging to the Qatari ruling family. The vehicles were parked outside a warehouse on Kuri Road near Bani Gala police station in Islamabad.
Police said the manager of the warehouse confirmed the vehicles belong to the Qatari ruling family. An investigation was underway.
Sources in the Foreign Office said Wednesday the luxury vehicles were under illegal use as Pakistani citizens are not allowed to use cars imported through diplomatic channels.
The luxury vehicles were only to be used by the Qatari ruling family or in projects initiated by the Qatari government in Pakistan, they added.
The Qatari embassy Tuesday issued a clarification pertaining to the recovery of 21 luxury vehicles from the compound of a textile mill owned by Saifur Rehman.
In his letter, Qatari Ambassador Saqr Bin Mubarak Al Mansouri said the luxury vehicles were legally brought to Pakistan and were then to be used for hunting purposes.
The cars belong to the Qatari ruling family and had been parked in the properties owned by Rehman in Lahore, Karachi, and Islamabad, he added.
Customs officials, however, said the embassy did not disclose ownership of the vehicles in its letter to the Pakistani authorities. They added that the cars were illegally parked as the authorities did not find any import document.
Authorities Monday night recovered the vehicles from inside a deserted building of Redco Textile Mills situated in Callar Syedan area of Rawalpindi. Saifur Rehman, a close aide of former prime minister Nawaz Sharif, owns the textile mills.
According to Customs Intelligence officials, more than 40 luxury vehicles were parked in the textile mills building out of which 20 were shifted to some other place before the operation.
They informed that all the vehicles had the number plates of the Qatari embassy. Sources further informed that the operation was conducted on the orders of DG Customs Intelligence Shaukat Ali.