Last Updated On 19 September,2018 06:57 pm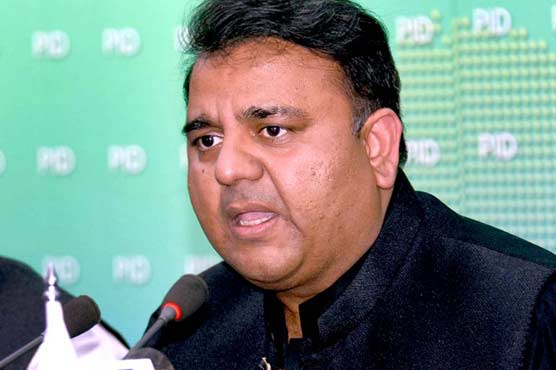 The minister said that the government and masses want action against elements involved in corruption
JEDDAH (Dunya News) – Federal Minister for Information and Broadcasting Fawad Chaudhry on Wednesday said that Pakistan's courts are independent and Pakistan Tehreek-e-Insaf (PTI) respects today s verdict of Islamabad High Court (IHC).
In a statement issued on Wednesday, Fawad Ch while reacting to suspension of Nawaz Sharif, Maryam Nawaz and Captain (r) Muhammad Safdar's conviction awarded by the Accountability Court in Avenfield reference, said that we consider it binding to respect today s verdict like the previous court judgments.
The minister said that the government and masses want action against the elements involved in corruption, adding that the nation wants its looted wealth to be brought back to the country.
He went on to say that the nation has no doubts about role of Sharif family. The Sharif family could not prove how they owned billions of rupees.
"Today s judgment has been given on procedural basis," the minister said and added the process will move forward and the law will take its course.
Earlier, the Islamabad High Court (IHC) had ordered the release of former prime minister Nawaz Sharif and his daughter Maryam Nawaz and son-in-law Captain (r) Safdar, suspending their prison sentences for corruption pending an appeal hearing.
The court had suspended the verdict against Nawaz Sharif, his daughter Maryam Nawaz and his son-in-law Captain Safdar and ordered to release them on bail until a final decision. They will be released after the payment of sureties of Rs500,000.
---
Convicted and sentenced
---
It is to be mentioned here that former prime minister Nawaz Sharif, Maryam Nawaz and Captain Safdar were convicted and sentenced to prison in absentia for ten years, seven years and one year respectively, in Avenfield verdict.
Maryam Nawaz and Captain (r) Safdar, who were candidates for the general elections 2018, were also disqualified from contesting elections for 10 years each.
The sentence and a fine of 8 million pounds, or $10.6 million, came almost a year after Supreme Court removed Sharif from office and less than five months after the court barred him from holding office for life.
Nawaz Sharif was convicted under section 9(a)(5) of the NAB ordinance.
The case stemmed from the Panama Papers leak that disclosed expensive and undeclared property owned by the Sharif family in London.