Last Updated On 13 September,2018 01:00 pm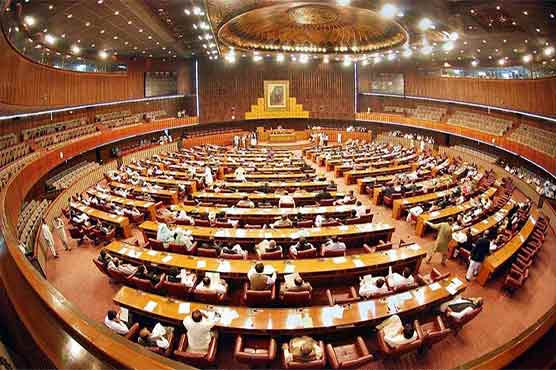 The joint session scheduled for Monday will be the first formal session
ISLAMABAD (Dunya News) – The joint session of the Parliament summoned by President Dr Arif Alvi tomorrow (Thursday) has been postponed for two days till Monday.
The president had on Wednesday summoned a joint session of both the houses of the parliament, which was scheduled for Thursday at 4pm.
The President has summoned session of the Senate on Friday at 5pm, while the National Assembly session was also summoned Friday at 4pm.
According to constitutional provisions, the president has to address a joint session of parliament at the beginning of the first session of the National Assembly after a general election, as well as the first sitting of the assembly every parliamentary year.
The joint session scheduled for Monday will be the first formal session of after election and swearing-in of the new prime minister, speaker and the deputy speaker.
Prime Minister Imran Khan, members of the federal cabinet and parliament, chief ministers, governors, ambassadors, diplomats, members of civil society and important personalities from different segments of life are likely to attend the joint session.
Special passes will be issued for the auspicious occasion. All leading entry and exit points would be strictly monitored and no vehicle would be allowed to enter the federal capital without a thorough search.
Rangers officials along with police will be deployed to ensure foolproof security.
Earlier, former President Mamnoon Hussain addressed the joint session of Parliament four times, Asif Ali Zardari six times while his predecessor General (r) Pervez Musharraf made the address once during his tenure of eight years and 10 months.
Former Presidents General Ziaul Haq and Ghulam Ishaq Khan had the opportunity to address Parliament on five occasions.
---
13th president of Pakistan

---
Alvi, a longtime ally of Prime Minister Imran Khan and one of the founding members of the Pakistan Tehreek-e-Insaf (PTI) party, was sworn-in as the 13th president Sunday.
Chief Justice of Pakistan Mian Saqib Nisar administered the oath to the newly-elected president.
Alvi swore to "bear true faith and allegiance to Pakistan" and to carry out his duties "in the interest of the sovereignty, integrity, solidarity, well-being and prosperity of Pakistan".
Prominent political leaders and other key dignitaries including PM Imran Khan and chiefs of all three armed forces were also present on the occasion. Alvi alsoreceived a welcoming guard of honour at an impressive ceremony held at the President's House.
Arif Alvi won the presidential election last week by securing 352 votes in the electoral college of national and provincial assemblies and the Senate.