CJP Saqib Nisar condoles Kulsoom Nawaz's death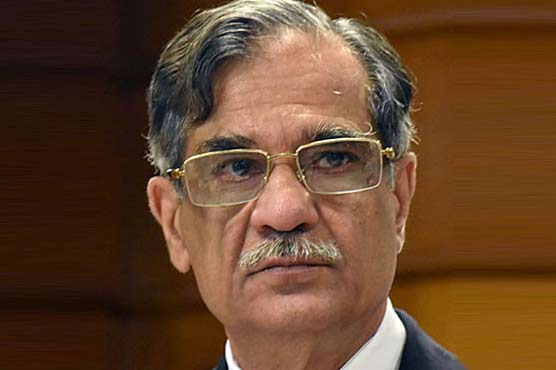 The funeral prayers will be offered at Regent's Park in London on Thursday.
ISLAMABAD (Dunya News) – Chief Justice of Pakistan Justice Saqib Nisar Tuesday expressed grief on the death of Begum Kulsoom Nawaz and condoled with the Sharif family.
Begum Kulsoom Nawaz, the wife of former prime minister and Pakistan Muslim League-Nawaz (PML-N) supremo Nawaz Sharif, passed away at London's Harley Street Clinic after a prolonged battle with cancer.
The news was confirmed by PML-N president Shehbaz Sharif. Kulsoom Nawaz is survived by her husband and four children, Hassan, Hussain, Maryam and Asma.
"My sister-in-law and wife of Mian Nawaz Sharif, Begum Kulsoom Nawaz is no more. May her soul rest in peace," Shehbaz Sharif said in a twitter announcement.
"Nawaz Sharif had always consulted Kulsoom Nawaz during his tough hours. She [Kulsoom Nawaz] challenged dictatorship courageously," stated Shehbaz while adding at the same time late Kulsoom's affiliation with democracy was proven and time-tested.
Shehbaz added nation will always remember services of Kulsoom Nawaz for democracy.
Nawaz Sharif and Maryam Nawaz, who are serving sentence in Adiala Jail, have also been informed about the demise of Begum Kulsoom. The former first lady was diagnosed with lymphoma (throat cancer) in August 2017 after which, she was shifted to London's Harley Street Clinic for treatment.
Nawaz Sharif and Maryam Nawaz had flown to London several times to inquire about the health of Kulsoom Nawaz. Family sources told that Begum Kulsoom had inquired about Nawaz and Maryam last night but was not informed about their conviction.
Her funeral prayers will be offered at Regent's Park in London Thursday and her body will be brought back to Pakistan after fulfilling legal obligations on Friday. She will be buried alongside her father-in-law, Mian Sharif, at Jati Umra.