President-elect Dr Arif Alvi takes oath today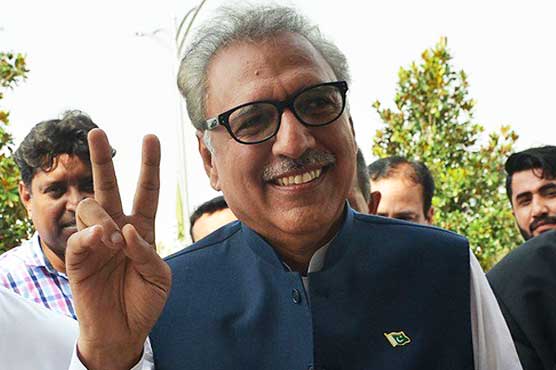 Arif Alvi won the presidential elections last week by securing 352 votes
ISLAMABAD (Dunya News) – President-elect Dr Arif Alvi will today (Sunday) take oath of office as the 13th head of state.
The oath will be administered by Chief Justice of Pakistan (CJP) Justice Mian Saqib Nisar at a ceremony to be held at the Presidency.
Prime Minister Imran Khan, Chief of Army Staff (COAS) General Qamar Javed Bajwa, federal ministers, parliament members, foreign diplomats and senior leaders of Pakistan Tehreek-e-Insaf (PTI) will attend the ceremony.
Arif Alvi won the presidential elections last week by securing 352 votes in the electoral college of national and provincial assemblies and the Senate.
---
Who is Arif Alvi?
---
Born in 1949 and a dentist by profession, Dr Arif Alvi is among the founding members of the Pakistan Tehreek-e-Insaf (PTI) party.
He was a member of the National Assembly of Pakistan from June 2013 to May 2018 and again from August to September 2018. His father Dr Habib ur Rehman Elahi Alvi was also a dentist.
---
Education
---
Alvi acquired his dental degree BDS (Dentistry) from de'Montmonrency College of Dentistry, an affiliate of the Punjab University.
He received Master of Science degree in Prosthodontics from the University of Michigan, Ann Arbor in 1975. At University of the Pacific, San Francisco, he completed a Master of Science in Orthodontics in 1984.
---
Political career
---
Alvi ran for the seat of Provincial Assembly of Sindh as a candidate of PTI from constituency PS-114 (Karachi) in Pakistani general election, 1997, but remained unsuccessful. He again ran for the provincial assembly seat in 2002 elections on PTI ticket from PS-90 (Karachi-II) but was unsuccessful and secured only 1,276 votes. He served as PTI secretary general from 2006 to 2013.
He was elected as member of the National Assembly of Pakistan for the first time in general election 2013 on PTI ticket from NA-250. Alvi was the only PTI member to win a National Assembly seat from Sindh in 2013 elections. In 2016, he was made president of PTI Sindh chapter.
Alvi was re-elected to the National Assembly as a candidate of PTI from constituency NA-247 (Karachi South-II) in general election 2018.
He also participated in elections from the platform of Jamaat-e-Islami in 1979 but lost. Later he became disillusioned with the politics of Jamaat-e-Islami and joined PTI as its founding member in 1996. He also helped in writing the Constitution of the new party.