Willing to withdraw name if Shehbaz agrees, Fazl tells Zardari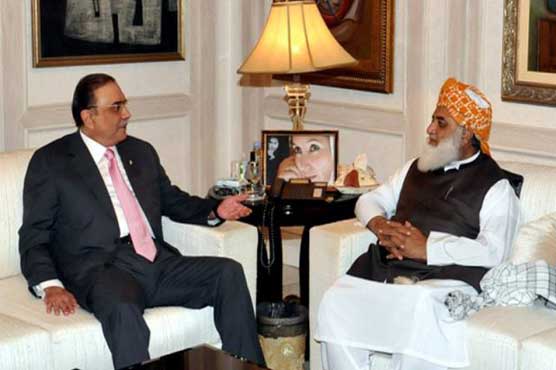 A PPP delegation was on its way to meet PML-N president Shehbaz Sharif.
LAHORE (Dunya News) – A delegation of the Pakistan People's Party (PPP) was on its way to meet PML-N president Shehbaz Sharif after Maulana Fazlur Rehman expressed 'conditional willingness' to withdraw from the presidential race.
The JUI-F chief said who met Asif Ali Zardari on Monday said he would withdraw his name on condition the PPP convinced PML-N on the name of Aitzaz Ahsan as joint candidate of the opposition parties.
Fazl who earlier claimed support of opposition parties as their joint candidate for the election met Asif Ali Zardari in Islamabad in a bid to convince the former president to take back the name of Aitzaz Ahsan.
However, as the talks remained inconclusive Fazl suggested Zardari the PPP approach Shehbaz Sharif and convince him to agree on the name of Aitzaz Ahsan.
Read more: Know the candidates
The presidential election will take place on September 4 at the Parliament House in Islamabad. Voting will be held in the National Assembly and four provincial assemblies from 10:00am to 4:00pm.
President is elected indirectly through an electoral college, comprising the Senate, National Assembly and the four provincial assemblies.
Every member of the National Assembly has one vote while the four provincial assemblies are assigned an equal weight with the smallest, the Balochistan Assembly, serving as the base.