PTI's Sardar Usman Buzdar becomes new Punjab CM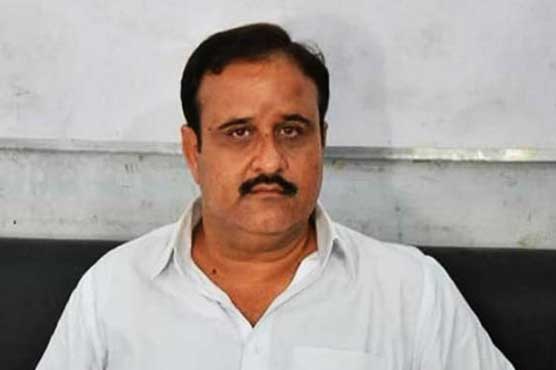 All the members including Speaker Chaudhry Pervaiz Elahi have arrived at the assembly.
LAHORE (Dunya News) - Pakistan Tehreek-e-Insaf's (PTI) Usman Buzdar has been elected as 26th Chief Minister of Punjab to serve the province for next five years.

In the House of 358, an aspirant required 178 votes to become CM and House's leader. However, Buzdar emerged victorious after obtaining 186 votes against Pakistan Muslim League-Nawaz's (PML-N) Hamza Shahbaz who secured 159 votes.

The session being chaired by Speaker Pervaiz Elahi began with the recitation of Holy Quran following an hour delay. The speaker directed members to return to the House after registering their votes.
---
Buzdar addresses Punjab Assembly
---
Newly elected Punjab Chief Minister, Usman Ahmad Buzdaar has thanked PM Imran Khan for reposing confidence in him for the Chief Minister s responsibility.

He said his government will implement Imran Khan s vision for progress of country.
The CM said that he belongs to a backward area of province and his government will work for the progress of backward areas.
---
Opposition stages protest
---
Ruckus broke out as the opposition members staged protest infront of speaker's dais soon after the announcement of new CM. They also chanted slogans in the favor of PML-N.
---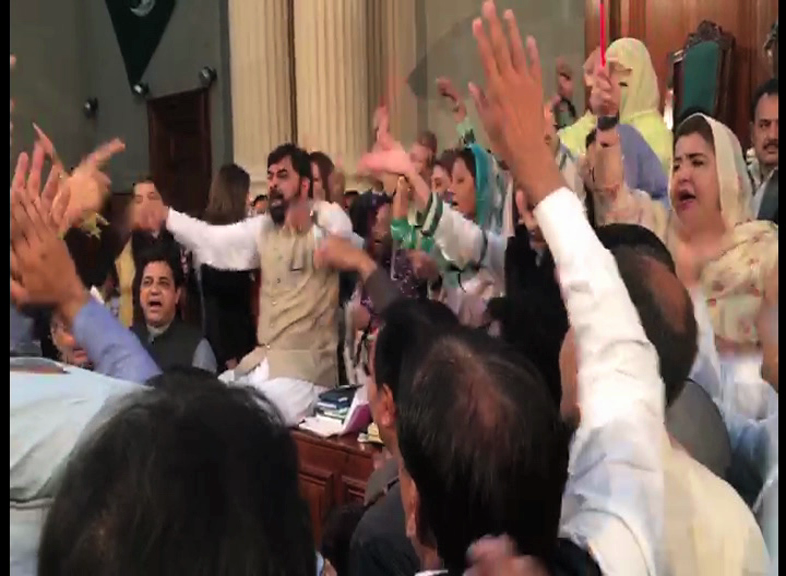 ---
I am against forward bloc: Speaker Pervaiz Elahi
---
Speaker Punjab Assembly Chaudhry Pervaiz Elahi has said that election of Punjab Chief Minister will be held on the basis of division of the House, rather than secret balloting.
---
Elahi said the election will be transparent. He also urged opposition to cooperate for taking the democratic process ahead instead of putting hurdles in its way.
He said opposition will not get anything from protest inside the House during today's election.
---
Hamza Shahbaz demands to form parliamentary commission
---
PML-N leader Hamza Shahbaz has demanded to constitute parliamentary commission to probe into alleged rigging in elections 2018.
---
Talking to media outside Punjab Assembly, Hamza said that he took oath as member of provincial assembly for the continuity of democracy.
He also lashed out at PTI, saying that a disqualified person took independent candidates to Bani Gala for their meeting with Imran Khan.
---
PPP to not participate in Punjab CM election
---
Pakistan Peoples Party (PPP) had decided to stay away from the election of Punjab Chief Minister (CM). The party neither voted for PTI candidate nor for PML-N candidate.
---
Profile of Usman Buzdar
---
Usman Buzdar garnered 26,897 votes from PP-286 Taunsa Sharif and defeated independent candidate Khawaja Muhammad Nizamul Mehmood.
---
Also Read: Nominated Punjab CM paid blood money to resolve murder case
---
Buzdar remained a member of Pakistan Muslim League-Quaid (PML-Q) from 2002-2008 and later switched to Pakistan Muslim League-Nawaz (PML-N). In 2013, he contested the election from PML-N ticket but lost to Pakistan Peoples Party's (PPP) candidate.
In Musharraf era, he remained district Nazim of Taunsa. His father Fatah Muhammad Buzdar is the chief of Buzdar tribe and was elected thrice as Member of National Assembly (MNA).