Despite all allegations, PM Imran stands by Punjab CM nominee Usman Buzdar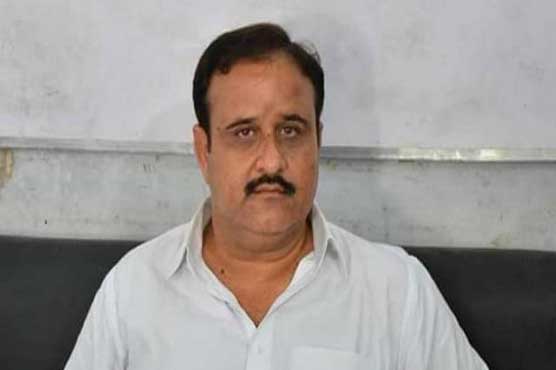 Should a nominee with such tinted profile be given a preference as CM Punjab?
(WebDesk) - Punjab is all set to elect its new Khadim-e-Aala. Newly elected Prime Minister and the PTI Chairman Imran Khan, has finally nominated strangely unknown and astonishingly unexpected candidate, Sardar Usman Buzdar from Tonsa Sharif for the most important designation of Chief Minister of Punjab after the Premiership in the power politics of Pakistan.
Also Read: Not months, will bring the change in days, vows Usman Buzdar
Elected from PP-236 and a recent join-in of the PTI, Usman Buzdar after surpassing many heavy weights, dreaming to rule the real power centre - Punjab, was nominated by the PM Imran Khan after being elected Leader of the House in the National Assembly in a video message released by the Khan on social media shared by the social media team of PTI.
Imran Khan explained the candidate for such an important post is chosen from the most impecunious part of Punjab. The people belong to his region are so impoverished that they even do not have basic necessities such as water, electricity, hospitals and others.
Khan further added that Buzdar does not even have electricity at his own home. As unbelievable as that may sound, it is true. His home in the tribal areas has no power like the rest of the homes in the village.
---
Right after the announcement of the name Buzdar as the candidate for the Chief Minister ship of Punjab, Social media erupted with the escalations and start buzzing with the lesser known facts in fact with details that are quite contradicting with the reasoning of PM Imran Khan, has been given to select him as the most rightful candidate as the CM Punjab.
Sardar Usman Buzdar is only coming for three months. It's a stop gap arrangement. Jahangir Tareen will contest a by-election and will eventually be elected as Chief Minister Punjab.

— Salman Masood (@salmanmasood) August 17, 2018

— Mubashir Zaidi (@Xadeejournalist) August 17, 2018

— Nusrat Javeed (@javeednusrat) August 18, 2018

— Shafaat Ali (@iamshafaatali) August 18, 2018

— Gharidah Farooqi (@GFarooqi) August 17, 2018

— Salman Masood (@salmanmasood) August 17, 2018

— Mosharraf Zaidi (@mosharrafzaidi) August 17, 2018

— Nasim Zehra (@NasimZehra) August 17, 2018
Media reported that the Buzdar's home town might not have the basic necessities but he himself, is not living in such an impoverished area rather he along with his family lives in a urban part of the DG Khan equipped with basic provisions of water, electricity and others.
Also Read: Usman Buzdar emerges as strong PTI candidate for Punjab CM slot
Sardar Usman Buzdar turn coat political journey
Sardar Usman Buzdar elected as member of provincial assembly for the first time in general elections 2018. He contested elections on the party ticket of Pakistan Tehreek-e-Insaf. While bagging 27, 027 votes and defeated Independent candidate Khwaja Muhammad Nizam ul Mahmood.
Before being part of the PTI camp, he was seen roaming around with the arch rival of PTI, former Khadim-e-Aala and now the president of Pakistan Muslim League N Shahbaz Sharif. Using the Janoobi Punjab Suba Mahaz movement, he and several other South Punjab members of national and provincial assembly defected from the PML-N to its opponent PTI. He joined PMLN in 2008 and remained there till 2013. In 2013, he contested and lost against the candidate of Pakistan People Party.
Before joining PMLN, he had been a part of Pakistan Muslim League Q from 2002 to 2008.
Usman Buzdar's father Sardar Fateh Muhammad Khan Buzdar has also served member to the provincial assembly three times from DG Khan – 1985-88, 2002-2007 and 2008-2013 – as a member of the Pakistan Muslim League-Q.
In August 2001, when Pakistan held local bodies' election under General Pervez Musharraf, he managed to secure the position of nazim twice and stayed affiliated with his father's party.
Murder charges on Usman Buzdar
PM Imran Khan nominated CM Punjab candidate Sardar Usman Buzdar has been involved in the murder charges of six men in a firing incident in 1998 elections. He was accused for paying blood money to resolve a murder case against him.
According to FIR copy available with Dunya News, a case was registered against 20 people including Usman Buzdar and father Sardar Fateh Muhammad over involvement in the murder who had opened fire while campaigning for Buzdar.
A court had declared the PTI's nominee for Punjab CM and others offenders in the case. He further added that Buzdar and his father had paid Rs 7.5 million as blood money and settled the case.
According to the senior analyst Salman Ghani, a nominee with such tinted profile for such a significant post should not be given the preference.
He further added that Sardar Usman Buzdar nomination for CM seems some stop gap arrangement. Imran Khan must have been misled and misguided. He must have been suggested by someone who knew all the facts and intentionally slated him to pave ways for personal interests.
His nomination was already being considered as a temporary arrangement for someone whom later be replaced by some other heavy weight.
According to the Bureau chief Khawar Ghumman, he is Jahangir Tareen's recommendation.
---
Corruption Allegations on Usman Buzdar
Another allegation pertaining to sardar Usman Buzdar making 300 bogus appointments during his tenure as nazim, has also surfaced.
However, Buzdar s brother dismissed the allegations as baseless, adding that the National Accountability Bureau had dropped the case after it failed to find sufficient evidence.
— Gharidah Farooqi (@GFarooqi) August 18, 2018

— Gharidah Farooqi (@GFarooqi) August 18, 2018
However, in a latest statement of PM imran Khan issued on Twitter, clearly stated that he will stand by his decision with regards to the nomination of Usman Buzdar.
— Imran Khan (@ImranKhanPTI) August 18, 2018

— Imran Khan (@ImranKhanPTI) August 18, 2018

— Imran Khan (@ImranKhanPTI) August 18, 2018
---