Pervaiz Elahi, Mazari elected as Punjab Assembly speaker, deputy speaker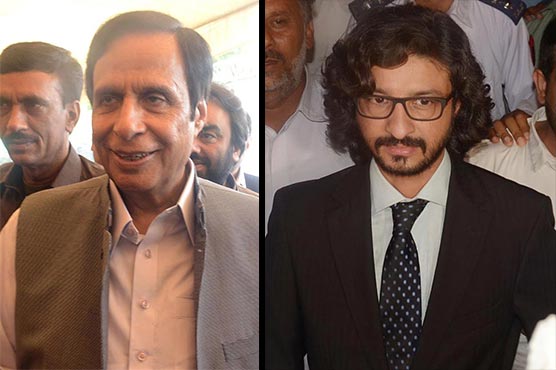 PPP did not participated in the voting process.
LAHORE (Dunya News) – Pakistan Tehreek-i-Insaf's (PTI) nominee, Chaudhry Pervaiz Elahi of the PML-Q on Wednesday was sworn in as the Speaker for the Punjab Assembly.
Elahi gained 201 votes while Pakistan Muslim League-Nawaz's (PML-N) Chaudhry Iqbal Gujjar received 147 in the secret balloting process. A total of 349 votes were cast among which one was rejected.
Outgoing speaker Rana Muhammad Iqbal administered oath to new speaker who supervised the election of the deputy speaker for the assembly.
Pandemonium broke out as the second session of Punjab Assembly commenced. Two more MPAs-elect, Malik Muhammad Waheed and Muhammad Khan Leghari, were administered oath taking the total number of members to 355. However; four MPAs were still to be sworn in.
The speaker showed the balloting place to the members and switched off the CCTV cameras installed there. He also barred the MPAs from taking mobiles inside the booth.
---
Mazari elected deputy speaker
---
Elahi later administered oath to Dost Muhammad Mazari as the deputy speaker of the provincial assembly. The PTI candidate secured 187 votes against PML-N nominee Waris Kulu, who received 159 votes.
Two votes were dismissed out of the total 348 votes.
The Pakistan Peoples Party (PPP) did not participate in the voting process of both the speaker and deputy speaker.
---
Ruckus during session
---
Ruckus was created thrice during the session of the assembly. Pakistan Muslim League-Nawaz (PML-N) expressed grave concerns over the polling process. Khawaja Saad Rafique maintained that fool-proof arrangements have not been made.
The members of the assembly created a ruckus while chanting slogans against each other. As the speaker failed to maintain order in the House, he read out the election order in the persisting situation.
During the voting process, PTI's Sadqa Sahab Dad Khan revealed her vote triggering protest from PML-N members in front of speaker's dais. Her vote was ultimately cancelled by the speaker.
At least 358 newly-elected members of 17th Punjab Assembly were administered oath on Wednesday by outgoing speaker Rana Muhammad Iqbal.