Name for Punjab CM to be revealed on Aug 17: Aleem Khan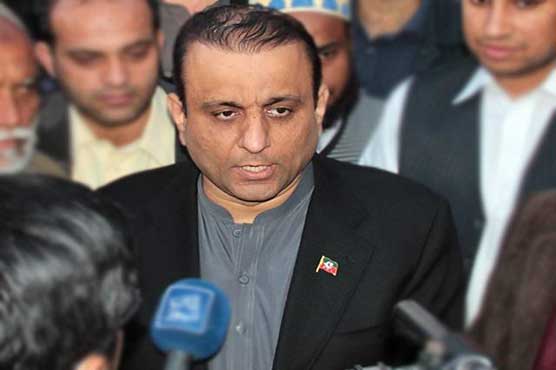 Aleem Khan said prime minister-in-waiting Imran Khan will make the announcement.
LAHORE (Dunya News) – Pakistan Tehreek-e-Insaf (PTI) will reveal the name of its candidate for the slot of Punjab chief minister on August 17.
This was stated by PTI leader Abdul Aleem Khan who said prime minister-in-waiting Imran Khan will make the announcement.
PTI spokesperson Fawad Chaudhry said Satuday the party had shortlisted three names for the slot. "Three names have been shortlisted for Punjab CM's slot," he told reporters in Islamabad.
It has been told that party's stalwarts have raised severe objections over considering names of Bahadur Dreshak and Hashim Hamid for slot of Punjab CM. They apprised top brass that aforementioned dignities have joined PTI just two months ago and asserted on considering name of loyal aide for the Punjab's highest position.
---
PML-N nominates Hamza Shehbaz
---
The Pakistan Muslim League-Nawaz (PML-N) party at a parliamentary meeting Monday nominated Hamza Shehbaz for the slot of Punjab chief minister.
The party also nominated Gujranwala MPA-elect Chaudhry Iqbal for the slot of provincial assembly speaker.
---
MPAs take oath in Punjab Assembly
---
At least 358 newly-elected members of 17th Punjab Assembly were administered oath on Wednesday by outgoing speaker Rana Muhammad Iqbal during the first session that begun after a delay of 46 minutes.
Several members took oath including Chaudhry Pervez Elahi, Aleem Khan, Hamza Shehbaz Sharif, Khawaja Saad Rafique, Dr Yasmin Rashid, Salman Rafique, Ayesha Chaudhry, Chaudhry Zaheerud Din, Bilal Yasin, Nadeem Kamran, Irfan Doltana, Mian Mehmoodur Rasheed, Manshaullah Butt, Murad Ras, Dr Mukhtar Bharat, Zakia Shahnawaz, Uzma Bukhari, Hina Pervaiz Butt, Bushra Anjum Butt and Sania Ashiq.
Speaker and Deputy Speaker of the Assembly will be chosen on August 16 through secret balloting. The nomination papers for the aforementioned slots will be submitted from 3pm to 5pm today.
PTI has nominated Chaudhry Pervez Elahi as speaker and Dost Muhammad Mazari as deputy speaker. On the contrary, Chaudhry Iqbal Gujjar will run for speaker's slot.
PTI has 175 members in the assembly, PML-Q 10, PML-N 162 and PPP10. Rah-e-Haq party has one member while three independent members are present.
Election results from three constituencies are pending while it has been halted from other three. Seven seats of Punjab Assembly were vacated after the member chose to take oath from National Assembly seat.