Sheikh Rasheed likely to be given railways ministry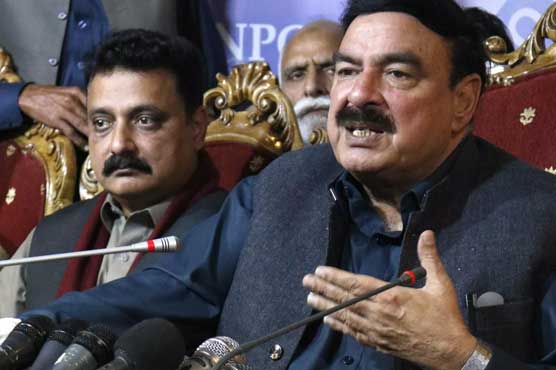 MQM-P is also eyeing two ministries in federal government
ISLAMABAD (Dunya News) – Awami Musmlim League (AML) chief Sheikh Rasheed is likely to be made Minister for Railways as Pakistan Tehreek-e-Insaf (PTI) is still working on formation of government in center.
Sources told Dunya News that PTI chairman Imran Khan will take AML chief Sheikh Rasheed in confidence on matters pertaining to the ministry.
Earlier, there were reports that Sheikh Rasheed was reportedly angry with Prime Minister-designate Imran Khan for not being assured over ministry of interior.
The AML had expressed his desire of becoming minister for interior but the PTI chairman didn't give him a green signal the desired ministry but offered the AML chief any other ministry after which he got angry.
Sources said that former Khyber Pakhtunkhwa CM Pervaiz Khattak is a strong candidate for the interior ministry slot, while Shafqat Mahmood also desires to serve as interior minister, however, Imran Khan will take final decision pertaining to ministry.
---
MQM Eying Ministries

---
On the other hand, Muttahida Qaumi Movement-Pakistan (MQM-P) is also eying two ministries in federal government be it Ministry for Information Technology, Ministry for Education or Ministry for Health.
Sources said that the MQM-P wants two ministeris in the federal cabinet two support PTI governemnt.
"Ministries related to rural issues are priority of the MQM-P," sources said and added the leadership of two parties will take final decision.
Previously on July 31, as part of its efforts to form a government at the Centre, a delegation of Pakistan Tehreek-e-Insaf (PTI), led by Imran Khan s pointman Jahangir Tareen, called on leaders of former nemesis Muttahida Qaumi Movement-Pakistan (MQM-P) here to seek their support.
Though MQM-P won just six National Assembly seats -- four in Karachi and two in Hyderabad -- in the July 25 elections, it has become an important factor since the PTI is short of numbers to form its government independently.
The meeting took place in Bahadrabad and was the first formal meeting between PTI and MQM-P leaders, where matters of government formation and other political issues, including July 25 elections were discussed.
During the meeting, MQM-P put forward its demands before the PTI leaders to offer the support of its six members in the lower house.
The MQM-P demands included Karachi Package, constitutional amendment for empowering local bodies, administrative units for the urban Sindh, community police and mass transit in Karachi. The party conditioned its support on the acceptance of its demands.