PTI nominates Qasim Suri for NA Deputy Speaker slot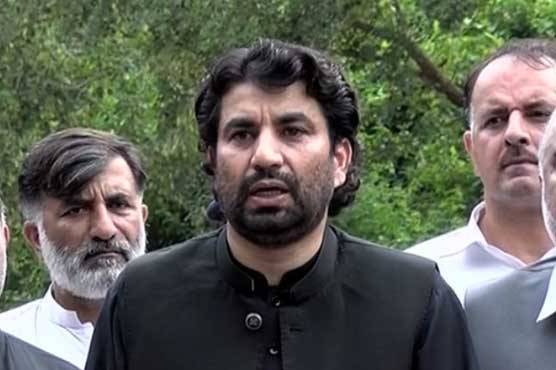 PTI candidate Asad Qaiser submitted nomination papers for the slot of National Assembly Speaker
ISLAMABAD (Dunya News) – Pakistan Tehreek-e-Insaf (PTI) on Monday nominated Qasim Suri from Balochistan as its candidate for the slot of National Assembly Deputy Speaker.
Talking to media in Islamabad, Qasim Suri while thanking PTI chairman Imran Khan for reposing trust in him said that the problems of Balochistan will be addressed on priority basis.
PTI nominated candidate for Speaker of the National Assembly Assad Qaisar said the nomination was made by PTI chairman Imran Khan.
He said that Qasim Souri is an old crony of Pakistan Tehreek-e-Insaf (PTI) adding that a balance approach has been adopted for selecting people from various parts of the country.
Qaiser said that Prime Minister designate Imran Khan hail from Punjab, the slot of National Assembly Speaker goes to Khyber Pakhtunkhwa, and deputy speaker has been chosen from Balochistan.
He said an enabling environment to strengthen democracy in Pakistan.
Earlier, the PTI chairman had nominated experienced Assad Qaiser as its candidate for the slot of National Assembluy Speaker.
On the other hand, PTI candidate Asad Qaiser had also submitted nomination papers for the slot of National Assembly Speaker in the NA Secretariat.
The name of Asad Qasir was proposed by MNA Riaz Fatyana and seconded by MNA Omar Ayaz.
Meanwhile, the joint candidate of opposition parties, Syed Khursheed Shah had also obtained nomination papers for participating in the election of National Assembly Speaker. Maulana Asad Mehmood, son of Maulana Fazlur Rehman also got nomination papers for the slot of Deputy Speaker.
Earlier today, during the first session of 15th National Assembly commenced as 325 members of the lower house of the parliament took oath after July 25 general elections.
Outgoing NA speaker Ayaz Sadiq presided over the historic session and administered oath to the MNAs-elect in the 342-member house.
The session begun with the MNAs-elect standing up for the national anthem and was followed by the recitation of the Holy Quran. The speaker then read out the procedure for the election of the new speaker and deputy speaker.