Pakistan Army officer's platoon declared best at UK's military academy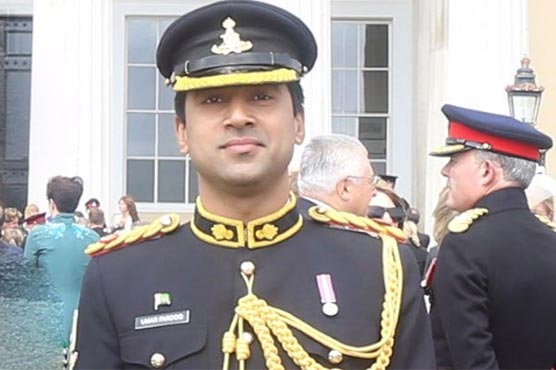 The Queen praised the Pakistani officer for "outstanding achievement."
LONDON (Dunya News) - Major Umar Farooq from Pakistan Army received a letter of appreciation from Queen Elizabeth after a platoon of cadets at UK s Royal Military Academy Sandhurst (RMAS), led by him, was declared as the best platoon of the course this year for demonstrating outstanding skills.
The Queen praised the Pakistani officer for "outstanding achievement."
The Sovereign's Parade of Commission Course 173 was held at Royal Military Academy Sandhurst on Friday. UK's Chief of General Staff General Mark Carlton Smith was the chief guest on the occasion.
Major Farooq, who had trained cadets for over a year, was declared platoon commander of the course. His platoon was declared best among eight others.
---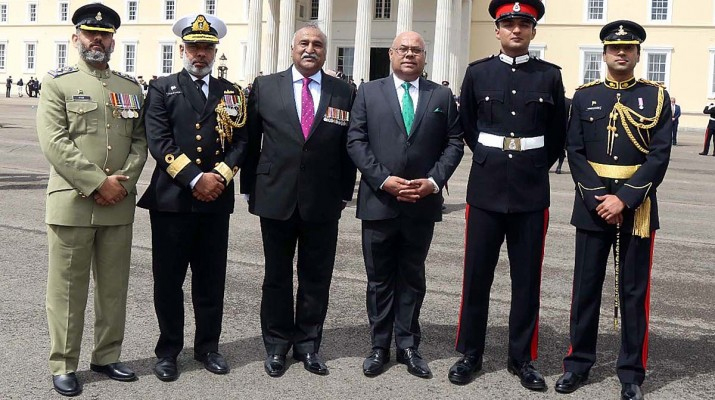 High commissioner of Pakistan Sahebzada Ahmad Khan in a group photo with Major Umar Farooq and others at the sovereign's parade. - APP

---
His name has also been written on the Sovereign's platoon board in Royal Military Academy library.
Pakistan High Commissioner Sahebzada Ahmed Khan attended the ceremony and congratulated Major Farooq and his platoon for achieving the coveted position.
Major Farooq belongs to the 44 SP Artillery. He has previously served in Pakistan Military Academy Kakul as Adjutant and Platoon Commander.
He was appointed instructor after Major Uqbah who returned to Pakistan last year after serving as the first Pakistani military instructor in RMAS.