Last Updated On 10 August,2018 07:53 pm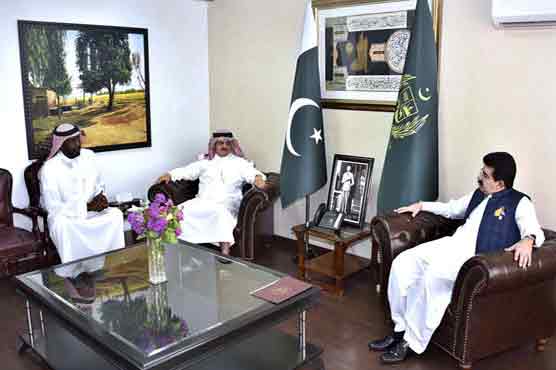 Senate chairman lauded contributions of Saudi Envoy in promoting bilateral relations
ISLAMABAD (APP) – Keeping in view the miseries and backwardness of the province of Balochistan, the Kingdom of Saudi Arabia, on intervention Senate Chairman Muhammad Sadiq Sanjrani, has announced 50 scholarships for the poor and underprivileged students from the province of Balichistan in undergraduate and graduate programmes at renowned Saudi universities.
The announcement came when Saudi Ambassador Nawaf Syed Al-Maliki called on Chairman Senate Muhammad Sadiq Sanjrani at the Parliament House on Friday and briefed him about the scholarships besides exchanging views on matter of mutual interests.
He said that the fully funded scholarship would provide students with tuition fee and other necessary expenses besides a stipend to cater for the monthly expenses.
The Saudi envoy informed that the number of scholarships would be doubled in the next year to facilitate more students from the province of Balochistan.
He also lauded the efforts and contribution of Chairman Senate for the socio-economic prosperity of the people of province of Balochistan.
Matters of mutual interests also came under discussion during the meeting.
The Senate chairman said that both Pakistan and Saudi Arab share identical views on promotion of regional peace and security and can play effective role in promoting peace and harmony.
He said that region is faced with problems of terrorism and extremism and especially the Muslim nations are having the major brunt of such social evils. He said that collective efforts on the part of leadership of the Muslim world can complement global efforts towards lasting peace.
Chairman Senate also lauded the contributions of Saudi Envoy in promoting bilateral relations. He said that scholarships would provide a better opportunity for exposure besides enhancing skills as the students would participate in research activities and explore new avenues of learning.
He thanked the Saudi government for this generous gesture which would help elevate miseries of the people of Baluchistan.