Interior Ministry blacklists Ishaq Dar, blocks passport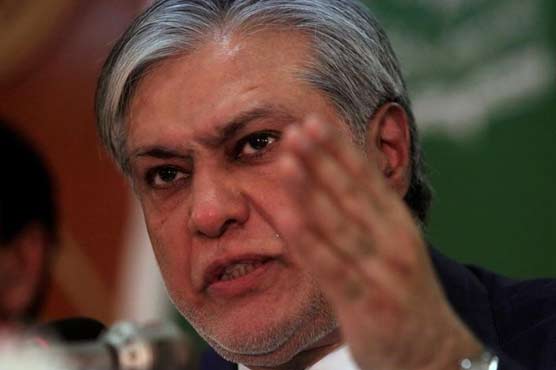 The ministry had blocked the passports of Hassan Nawaz and Hussain Nawaz
ISLAMABAD (Dunya News) – The Ministry of Interior on Thursday while blacklisting former finance minister and Pakistan Muslim League-Nawaz (PML-N) leader Ishaq Dar blocked his passport.
Sources privy to the National Accontability Bureau (NAB) said that Ishaq Dar's name was included in the blacklist on the request of the anti-graft watchdog, while his passport was also blocked.
The former finance minister was declared fugitive in case pertaining to assets beyond income means and efforts were underway to bring him back to Pakistan through Interpol.
---
Ishaq Dar declared absconder

---
In November last year, the accountability court had declared ex-finance ninister Ishaq Dar absconder and rejected the minister's petition in which he sought immunity from hearing of assets beyond known sources of income reference.
The court had further directed to release advertisement for Dar's summoning. The court had also issued a show-cause notice to Ishaq Dar's guarantor Ahmed Ali Quddusi and ordered him to submit reply by November 24.
The minister had made the request to get immunity from hearing on medical grounds as he is in London for heart treatment, and a fresh health report was also submitted in the court by his counsel. The National Accountability Bureau (NAB) special prosecutor had opposed the report and requested the court to declare Ishaq Dar absconder.
---
Dar relieved of his roles

---
In November last year, Dar was relieved of his three roles, including his portfolio in the finance ministry, and has been informed of the decision. The matter and the contents of the letter, earlier sent by Dar, were also discussed by the premier with former prime minister Nawaz Sharif.
Dar had arrived in London in October last years and had been seeking treatment at a Harley Street hospital. He had been attending the clinic for treatment three times a week and also spent a week in the hospital.
Dar sent a three-page letter to the PM Office on November 20, stating that he wishes to seek "relief for now from looking after the three divisions" that he has been heading for approximately four years.
In it, he narrated his health condition, saying that his surgeon had asked him to avoid international air travel.
---
Dar spotted in London

---
In June this year, the former minister had been spotted in London while leaving the Harley Street Clinic during ex-prime minister Nawaz Sharif's media talk.
The video shows that Ishaq Dar silently came out of the clinic, where Nawaz's wife Begum Kulsoom Nawaz was undergoing a treatment, and started walking.
As soon as the former minister sat inside his car, the newsmen also drew their microphones inside. Dar, who was angry yet smiling, made every effort to drive the microphones away.
"When will you return to Pakistan?" another reporter asked Dar amid his efforts to duck the questions.
He replied: "I will return whenever my health improved." "But you appear to be fine; you would also have received [medical] reports?" came another query from one of the scribes surrounding him.
Dar, while attempting to close the door of his vehicle, responded to the question: "Yes, I have received the reports."
---
Dar s repeated absence from hearings

---
In July, the interior ministry had issued red warrant against former finance minister Ishaq Dar, who has been declared absconder by an accountability court in a corruption case.
A three-member bench headed by Chief Justice Saqib Nisar had taken up the matter of Dar s repeated absence from hearings despite being given several directions.
Attorney General Khalid Javed Khan told the apex court that the the cancellation of Dar s passport would be used as an alternative option if he continued to refuse to return to Pakistan.
The court had also informed that Dar s properties in Pakistan had been forfeited. The former finance minister had won a Senate seat in March as a Pakistan Muslim League-Nawaz (PML-N) backed Independent candidate.
---
Assets beyond known income

---
On July 28, a five-member Supreme Court bench had ordered NAB to file three references against former prime minister Nawaz Sharif and one against Dar, on petitions filed by Pakistan Tehreek-i-Insaf's Imran Khan, Jamaat-i-Islami's Sirajul Haq and Awami Muslim League's Sheikh Rashid Ahmed.
In its reference against the finance minister, NAB had alleged that "the accused had acquired assets and pecuniary interests/resources in his own name and/or in the name of his dependants of an approximate amount of Rs831.678 million (approx)".
The reference alleged that the assets were "disproportionate to his known sources of income for which he could not reasonably account for".
---
Nawaz's sons, principle secretary's names on ECL

---
It is pertinent here to mention that the interior ministry yesterday had blocked the passports of former prime minister and PML-N supremo Nawaz Sharif's sons Hassan Nawaz and Hussain Nawaz and included their names in the blacklist.
The former premier's sons cannot use their Pakistani passports.
On Wednesday, the names of ex-PM Nawaz Sharif's principle secretary Fawad Hassan Fawad and PTI chairman Imran Khan's close companion Zulfi Bukhari had also been placed on ECL.
Fawad Hasan Fawad's name had been placed on the ECL as he is also accused in various corruption cases and arrested by NAB on July 5.
Fawad is being investigated for corruption in the Ashiana Iqbal Housing Scheme case. He has served as former prime minister Nawaz Sharif s principal secretary and was arrested on July 5 by NAB.
---
Zulfi Bukhari's name place on ECL

---
The ministry had placed the name of Zulfi Bukhari on Exit Control List (ECL) on the request of National Accountability Bureau (NAB).
Bukhari is a close aide to Pakistan Tehreek-i-Insaf (PTI) Chairman Imran Khan, and was in charge of Khan's campaign in NA-53. A sub-committee of cabinet headed by interim interior minister Azam Khan had approved NAB's request.
On July 7, Justice Aamer Farooq of the Islamabad High Court while accepting Bukhari's petition ordered removal of his name from the blacklist of the interior ministry, enabling him to travel abroad without any constraint.
The plea came following the June 11 incident when Bukhari was briefly stopped from boarding a chartered flight at the Noor Khan Airbase from where he wanted to travel to Saudi Arabia to perform Umrah along with Imran Khan, his wife, Aleem Khan and others.
Bukhari's departure was a shocking development for NAB as the anti-corruption watchdog was not informed why an accused on the Exit Control List (ECL) was allowed to leave the country.