Election 2018: SHC stops victory notifications of Jameel Ahmed, Faisal Vawda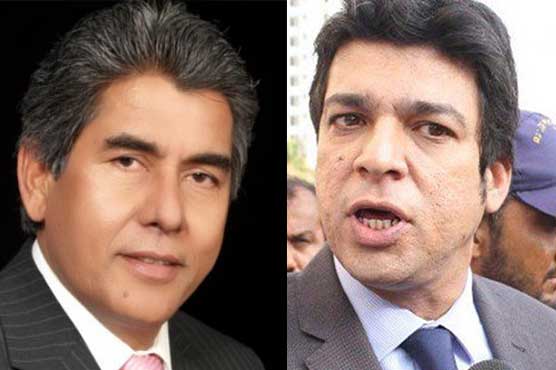 The decision was taken over the plea of PML-N president Shehbaz Sharif.
KARACHI (Dunya News) – Sindh High Court (SHC) on Tuesday has stopped victory notification of Pakistan Tehreek-e-Insaf (PTI) leader Faisal Vawda in NA-249 over the plea of Pakistan Muslim League-Nawaz (PML-N) president Shehbaz Sharif.

During the hearing, the court has summoned reply from Election Commission of Pakistan (ECP) secretary and others till August 10.

Meanwhile, success notification of PTI's Jameel Ahmed Khan in NA-237 has also been halted.

Earlier today, Shehbaz Sharif approached SHC and demanded to hold vote recount in NA-249 Karachi. He adopted the stance that the environment was made favorable for PTI leader Faisal Vawda during election campaign. The law enforcement agencies removed my posters and banners from the constituency, he alleged.

Sharif said that their polling agents were forcefully sent out of the voting hall during counting. However, they were handed over the results on a rough paper, he stated.
---
Also Read: Vote recount in NA-131 to be carried out today
---
The PML-N leader said that earlier, returning officer rejected his plea of vote recount after which he decided to contact SHC.

Election Commission of Pakistan (ECP) should be directed to save all the record as irregularities at massive level were witnessed on the polling day, he continued.
Moreover, the plea requested the court to halt victory notification of Faisal Vawda and ordered to carry out recounting in the constituency.
It is to be mentioned here that PTI's Faisal was declared victorious in NA-249 with 35344 votes while PML-N's Mian Muhammad Shehbaz Sharif obtained 34626 votes.

Earlier, Lahore High Court (LHC) had restrained the ECP from issuing the victory notification of former foreign minister Khawaja Asif in NA-73 Sialkot constituency.
LHC Justice Mamoonur Rasheed announced the decision on petition filed by PTI leader Usman Dar and issued notices to the electoral commission and Khawaja Asif.