Dunya Media Group employees donate two-day salary to dams fund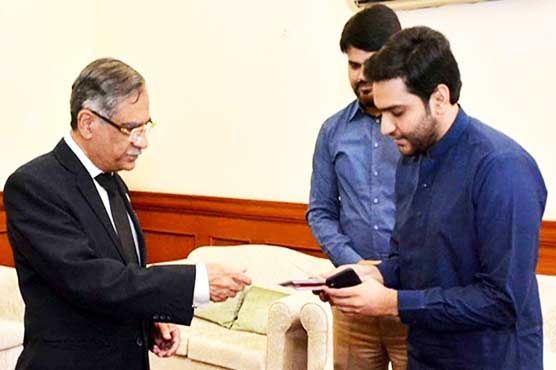 The cheque worth Rs10 million was handed over to Chief Justice of Pakistan (CJP) Mian Saqib Nisar.
LAHORE (Dunya News) – The employees of Dunya Media Group, while participating in the process to curb water crisis in Pakistan, have donated their two-day salary to the funds for the construction of Diamer-Bhasha and Mohmand dams.
On the behalf of Dunya Media Group Chairman Mian Amer Mahmood, the cheque worth Rs10 million was handed over to Chief Justice of Pakistan (CJP) Mian Saqib Nisar by Chief Operating Officer (COO) Hashim Khan.

On the occasion, the top judge appreciated the contribution and expressed his best wishes.
---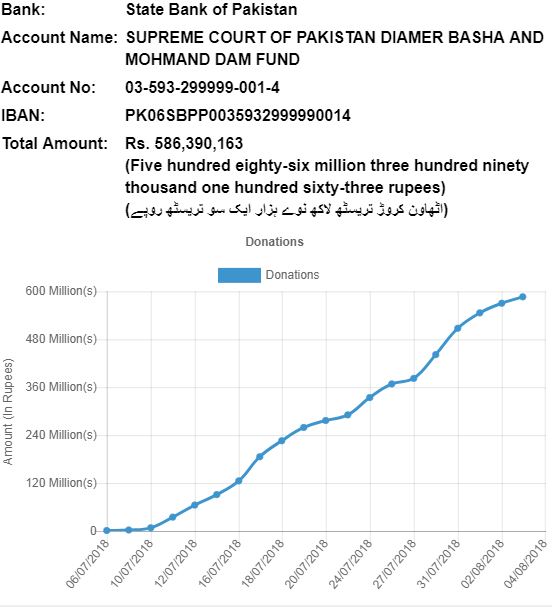 ---
The fund was established on July 4 by CJP Saqib Nisar when he funded Rs1 million with an ambition to eradicate water issue from the country.

Chairman Water and Power Development Authority (Wapda) Lieutenant General (Retired) Muzammil Hussain stated that the work on Diamer-Bhasha and Mohmand dams will initiate in the upcoming fiscal year 2018-19.
---
Also Read: SBP directs banks to collect funds for dams construction
---
According to him, "Both projects are vital to achieve water and energy security; therefore, all stakeholders should play their role in the initiation and timely completion of these projects."
---
Storage capacity of the dams
---
Diamer-Bhasha dam power project will have 8.1 million acre feet (maf) of gross water storage capacity. It will produce 4500 megawatts electricity.

On the other side, through Mohmand dam 1.2 million acre feet water will be stored while it will produce 800MW of electricity.

These projects undoubtedly will assist the government in generating more electricity and most important of all they would help in storing water worth billions of dollars.
---
Cost of Diamer-Bhasha and Mohmand dam Dam
---
Both the dams are quite pertinent as they would fulfil multiple purposes. Moreover they will be required to be constructed at the earliest as water worth billions of dollars is wasted on annual basis.
---
Explore: Punjab police to contribute to dams fund
---
According to officials, the total cost of Diamer-Bhasha Dam is around Rs1450 billion. From this amount, Rs650 billion will be used for the construction of reservoir.

On the other side, cost of Mohmand dam is Rs300 billion.
---
Other ways to participate
---
Masses' contribution in the fund can be done if they send an SMS by typing 'dam' and sending it to 8000, charges are Rs10 on each message.

The donors can also make online donations to the fund through internet banking, automatic teller machines (ATM) and other alternate delivery channels (ADC) using IBAN of their respective bank.
---
Have a look: Hamza Ali Abbasi donates Rs300,000 for construction of dams
---
The donations can also be made through credit / debit cards from anywhere in the world by clicking the "Online collections for Supreme Court Diamer Bhasha and Mohamand Dams Fund" on the SBP's web page.
The overseas Pakistanis may deposit their contributions to the fund in cash, cheques, pay orders, demand drafts etc at the Pakistani missions in the relevant country.