Formation of Govt: PTI, MQM-P strike deal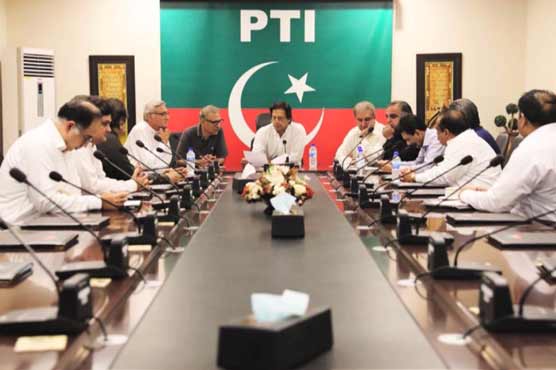 The PTI has also assured to extend cooperation in the issues of census and delimitation
ISLAMABAD (Dunya News) – Following an agreement with Pakistan Tehreek-e-Insaf (PTI), Muttahida Qaumi Movement-Pakistan (MQM-P) will join the PTI in the government.
Addressing a joint press conference with leaders of PTI in Islamabad on Friday, MQM-P chief Khalid Maqbool Siddiqui said: "We have visited Bani Gala at the invitation of PTI Chairman Imran Khan, adding that today s meeting is a step forward to extend the journey of democracy."
He said that instead of personal interests, MQM-P has prioritized the interest of the country, adding that the development of Karachi means the development of Pakistan.
Siddiqui went on to say that the devolution of power will bring more power to people.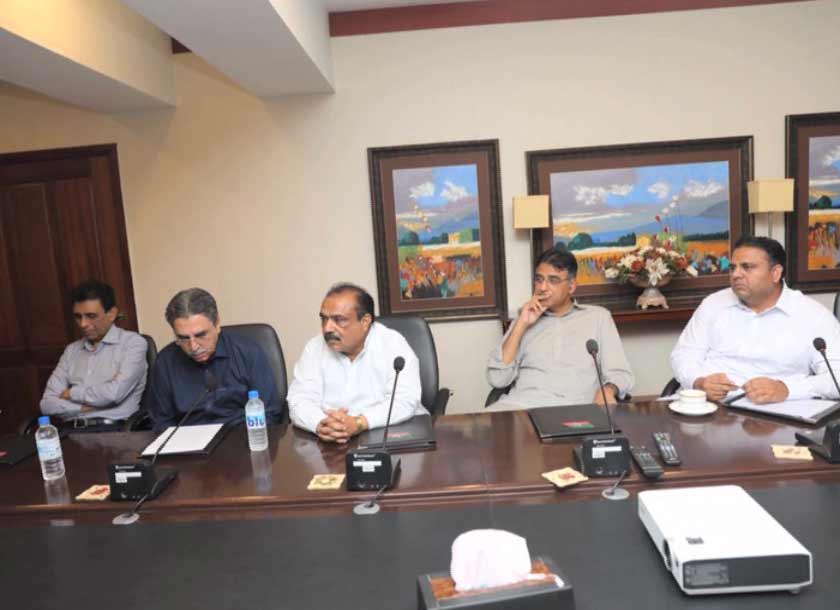 "Both MQM and PTI have gained a huge mandate in urban areas of Sindh and they will cooperate with each other," Khalid Maqbool Siddiqui added.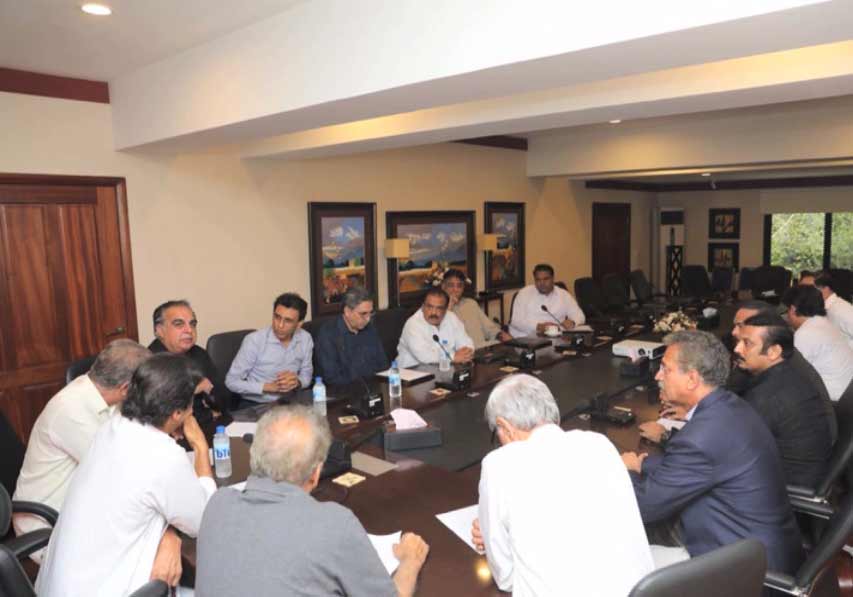 "The PTI has also assured to extend cooperation in the issues of census and delimitation," the MQM convener said and added continued operation in Karachi will also be reviewed and taken to its logical conclusion.
Speaking on the occasion, PTI leader Jahangir Khan Tareen said that both parties are building on the earlier contacts for formation of government, adding that the manifesto of PTI gives deep importance to devolution of power and an effective local government system.
He said that the PTI will try to bring police reforms in Sindh in collaboration with MQM-P like it did in Khyber Pakhtunkhwa.
Tareen further said: "The people of Karachi have trusted PTI and MQM through their votes, adding that unfortunately no serious effort was made in the past to resolve the problems of the metropolis, however, PTI will take steps to give maximum relief and facilities to urban areas of Karachi by announcing a special package for the city."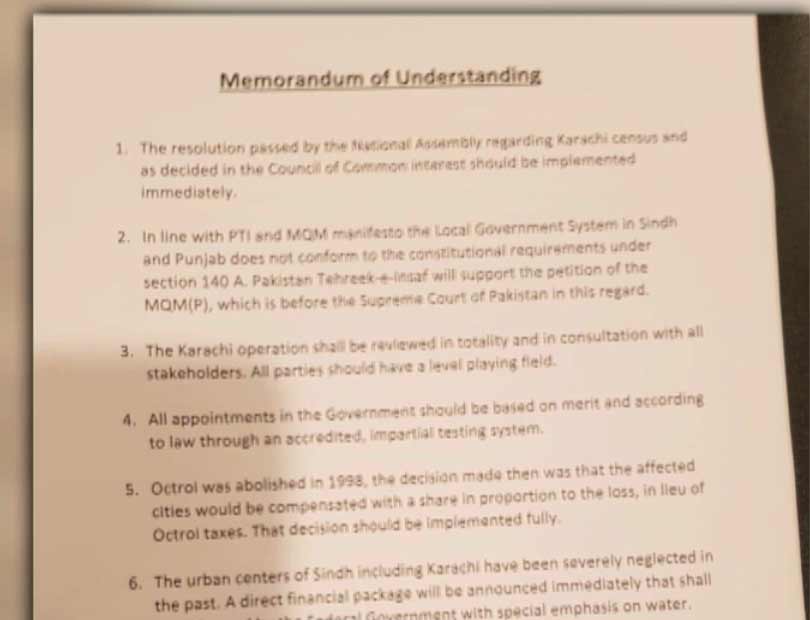 Moreover, he said, a university would also be set up in Hyderabad to grant the right of higher education to its residents.
On July 31, Jahangir Tareen met MQM-P leadership in Karachi and invited them to join the federal government.
The MQM-P put forward various demands to join PTI government in National Assembly. The party, after consultation with Rabita Committee, demanded to stop targeted operation and to reopen its offices in Karachi.
It also asked to hold vote recount in 12 constituencies of Karachi.
MQM-P further demanded to construct university in Hyderabad and to issue funds to the mayor. However; the party had refused to become part of the All Parties Conference and pledged support to PTI.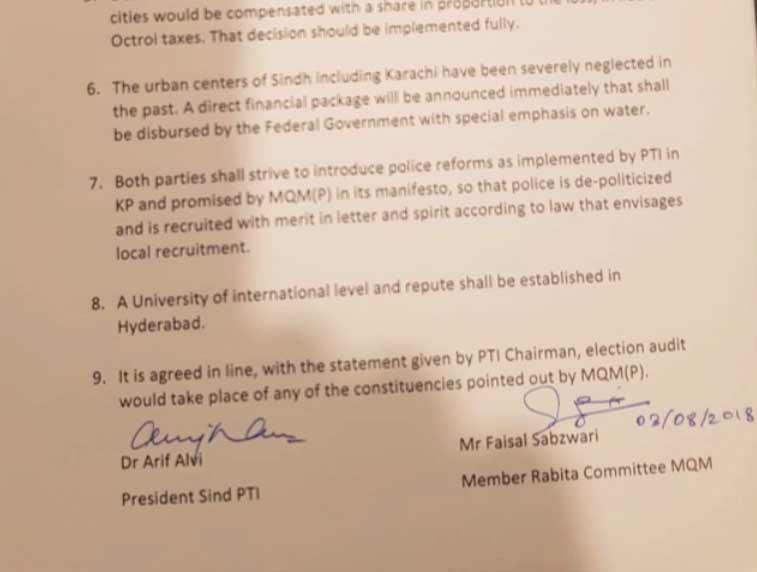 Previously, former cricket star Imran Khan s party Pakistan Tehreek-e-Insaf (PTI) had won majority in the country s general elections and is ready to form the central government.
The PTI had taken the decisive lead by winning 116 seats against former Prime Minister Nawaz Sharif s Pakistan Muslim League-Nawaz (PML-N) and former President Asif Zardari s Pakistan Peoples' Party (PPP) which won 64 and 43 seats, respectively.
Besides these three major parties, Muttahida Majlis-e-Amal Pakistan won 13 seats, Muttahida Qaumi Movement Pakistan six seats, Pakistan Muslim League and Balochistan Awami Party four seats each, Balochistan National Party and Grand Democratic Alliance two seats each, Awami Muslim League Pakistan, Awami National Party, Jamhoori Wattan Party and Pakistan Tehreek-e-Insaniat one seat each.
On Friday, Naeemul Haq, a spokesperson of Imran Khan, said that they had successfully got the required numbers to get the simple majority in the house.