Battleground Punjab: PTI inches towards securing majority in PA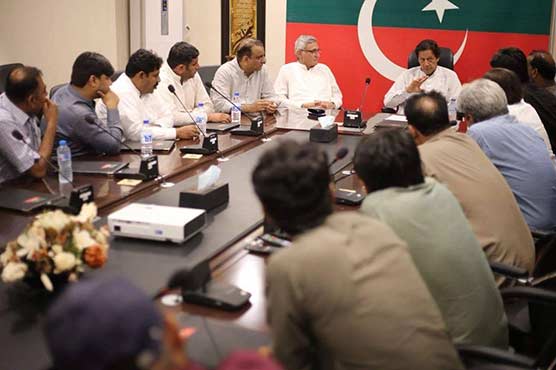 PML-Q leaders will meet Khan today.
(Dunya News) – Pakistan Tehreek-e-Insaf (PTI) is on cusp of securing simple majority in Punjab as three more MPAs-elect (member of provincial assembly) have on Monday put their weight behind cricket-turned-politician Imran Khan.
With the current tally of 142, PTI requires support of another seven MPAs to form government in Pakistan's largest province.
As per details garnered, two MPAs-elect Faisal Jawana and Aslam Bharwana who contested elections from from Jhang's PP-125 and PP-127 respectively has announced to join ranks of PTI. Likewise, independent MPA-elect from Multan's PP-217 Sheikh Salman Naeem—who had contested elections against PTI's vice-president Shah Mehmood Qureshi—has also announced to join PTI.
Read also: PTI claims to meet required seat target in next 12 hours
On the other hand, a delegation of Pakistan Muslim League Quaid (PML-Q) led by Ch Shujat Hussain and Pervez Elahi has left for Bani Gala. They have already announced support for PTI in both Centre and Punjab. With eight MPAs in pocket, PML-Q's support for PTI will ultimately end battle for Punjab.
With 129 seats in Punjab Assembly, PML-N enjoys slander lead over PTI but inclusion of independent lawmakers have swung the political battle in latter's favor. If PML-Q announces support for PTI today, then Khan-led party will secure majority in Punjab and would be all set to form coalition government.
---
General Election 2018

---
On Wednesday, millions of Pakistanis voted to elect a new government and prime minister in a peaceful elections held in free, fair and transparent manner.
Around 800,000 police and military forces were stationed at more than 85,000 polling stations across the country as the voting took place.
Wednesday's election was only the second democratic transition of power in Pakistan's 70-year coup-studded history.
Pakistan is a country of approximately 207 million people, out of which the number of registered voters are about 106 million.
The voting for the Pakistan election, which took place between 8:00 am local time (8:30 am IST) and 6:00 pm (6:30 pm IST), saw more than 3,000 candidates contesting for 272 general seats of the National Assembly, while some 8,000 candidates ran for 577 general seats of the four provincial assemblies - Punjab, Sindh, Khyber Pakhtunkhwa, and Balochistan.