Shehbaz meets PPP leader, seeks support to form govt in Punjab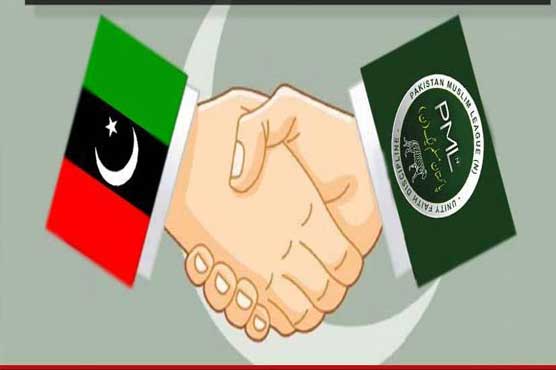 The PML-N president likely to meet Khursheed Shah today
LAHORE (Dunya News) – As the mind boggling number game of forming a government in Punjab continues, former Punjab CM and Pakistan Muslim League-Nawaz (PML-N) president Shehbaz Sharif met former Punjab Governor Makhdoom Ahmad Mahmood and discussed matters of forming coalition government in Punjab.
This was the first formal contact between PPP and PML-N to get support of PPP's member provincial assembly.
During the meeting, Makhdoom Ahmad said that it was early to anything pertaining to alliance with the PML-N.
He said that the party chairman Bilawal Bhutto Zardari and co-chairman Asif Ali Zardari will take the decision to help PML-N form government.
The PML-N president also telephoned former leader of opposition in National Assembly and PPP leader Syed Khursheed Shah and is likely to meet him in Islamabad tomorrow.
The meeting is expected to discuss joint opposition strategy.
On the other hand, PPP leader expressed desire to meet former NA speaker Sardar Ayaz Sadiq and is likely to meet him today.
Meanwhile, PML-N leader Ayaz Sadiq telephoned PML-Q leader Pervez Elahi seeking party's help in forming government in Punjab.
On Friday, Bilawal Bhutto Zardari while addressing a press conference advised the political parties to use Parliament's floor to protest against the alleged rigging in general elections.
He rejected the proposal of not taking oath presented in the All Parties Conference (APC) and suggested the political parties to record their protest in a democratic way and shouldn't leave the parliament.
The PPP chairman said: "All political parties have objection on the election results, adding that he will contact political parties in this regard and will raise the issue in the parliament."
At present, the PML-N stands on the first position with 129 seats, not enough to form a government on its own in Punjab. On the other hand, with a close margin, Pakistan Tehreek-e-Insaf succeeds in reaching at the score of 123, still not enough to form a government with a majority.
In a current neck and neck competition, both of the parties are required to have a support of enough number of independents while aiming to have government in Punjab.
Besides PMLN and PTI, the other key players in the battle ground include independents with 30 seats, PML Q with 7 seats, PPP with 6 seats while BAP, Functional League and PAR has one seat each.