MQM-P decides against joining APC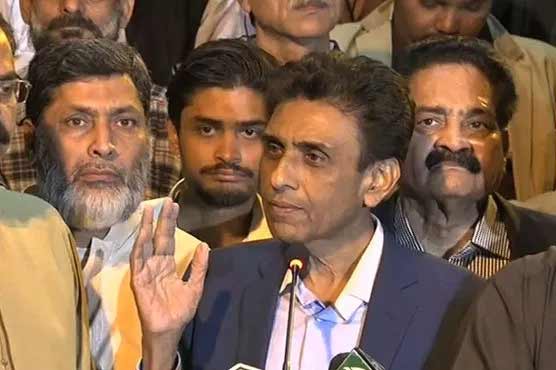 Farooq Sattar and Naveed Jamil had arrived in Islamabad to attend the APC.
ISLAMABAD (Dunya News) – The Muttahida Qaumi Movement-Pakistan (MQM-P) has decided not to attend an All Parties Conference announced by Jamiat Ulema-e-Islam (JUI-F) chief Maulana Fazlur Rehman.
The MQM-P leadership reportedly took the decision after a telephonic interaction between MQM-P's Khalid Maqbool and PTI leader Jahangir Tareen took place on Friday.
According to sources, Farooq Sattar and Naveed Jamil had arrived in Islamabad to attend the APC but decided against it after invitation from the PTI for a potential alliance.
Meanwhile, the latest Election Commission of Pakistan (ECP) official partial results showed Khan s Pakistan Tehreek-e-Insaf (PTI), or Pakistan Movement for Justice party, had won 116 seats out of the National Assembly has 272 seats in total.
Although Khan appeared likely to fall short of the 137 seats needed for a majority in the National Assembly, his better-than-expected results mean he should have no problems forming a government with a handful of small coalition partners.
One of the first tasks for Khan, once he forms the government, will be to avert a currency crisis, which follows four devaluations of the rupee currency since December, and will likely require Islamabad to seek Pakistan s second International Monetary Fund bailout since 2013.
Despite initially rejecting Khan s win and alleging that vote rigging had taken place, Shahbaz Sharif s Muslim League accepted the results on Friday. Sharif is still behind bars on corruption charges, after being detained upon his return to Pakistan on the eve of the election.
Pakistan Muslim League-Nawaz (PML-N) had 64 seats, the results showed. The Pakistan Peoples' Party (PPP), led by Bilawal Bhutto Zardari, the son of assassinated two-time prime minister Benazir Bhutto, was third with 43 seats.
"The PML-N would play the role of a strong opposition," said Shehbaz Sharif.
PTI spokesman Fawad Chaudhry said that work to build the governing coalition was already underway and that the party would consider both independents and allies, in a process that could take several days.