Justice will be delivered to Justice Shaukat Aziz Siddiqui: CJP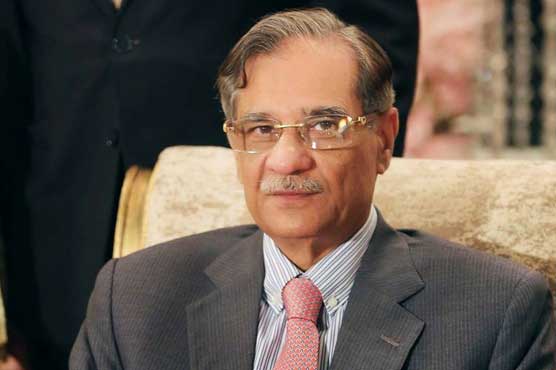 The IHC judge had alleged intelligence agency of manipulating the judicial procedures
LAHORE (Dunya News) – Chief Justice of Pakistan (CJP) Justice Mian Saqib Nisar on Monday said that Pakistan will be blessed until the powerful judiciary is present and justice will be delivered to everyone.
Giving his remarks while hearing a petition pertaining to suo motu notice against Islamabad High Court (IHC) judge Justice Shaukat Aziz Siddiqui, the CJP said that justice will be delivered to Justice Shaukat Aziz Siddiqui, adding that injustice would not be done to anyone.
Justice Saqib Nisar read out the oath in the courtroom and assured the petitioner that nothing was being done against the country and Pakistan will be blessed until the presence of this powerful judiciary.
He asked the petitioner to submit his petition if he wanted to as notice has already been taken on the issue.
Earlier, Justice Shaukat Aziz Siddiqui while addressing a ceremony of the Islamabad Bar Council had leveled serious allegations against country's intelligence agencies.
The IHC judge had alleged intelligence agency of manipulating the judicial procedures, adding that he is not involved in corruption. He further appealed Supreme Judicial Council (SJC) to hold an open trial against him.
Justice Siddiqui said that Pakistan can be compared with India, Bangladesh or Sri Lanka instead of comparing with the United States or Europe. "India will be a bigger economic power by 2030 and we are going backward," he said.
On Sunday, Inter-Services Public Relations (ISPR) had requested honorable Supreme Court of Pakistan to initiate appropriate process against Justice Shaukat Aziz Siddiqui's remarks regarding interference of intelligence agency in judicial matters.
In a post on Twitter, ISPR stated, "An honorable judge of Islamabad High Court of Pakistan has leveled serious allegations against state institutions including honorable judiciary and the premier state intelligence agency."
Honourable Supreme Court of Pakistan has been requested to launch inquiry to ascertain the veracity of the allegations leveled against state institutions, it added.
On the other hand, Chief Justice of Pakistan (CJP) Mian Saqib Nisar had taken notice of the statement and sought record of Siddiqui's speech from Pakistan Electronic Media Regulatory Authority (PEMRA).
The top judge said that the judiciary was working independently and free from any pressure. I read about the statement of a judge and was deeply disappointed, he added.