Last Updated On 21 July,2018 08:20 pm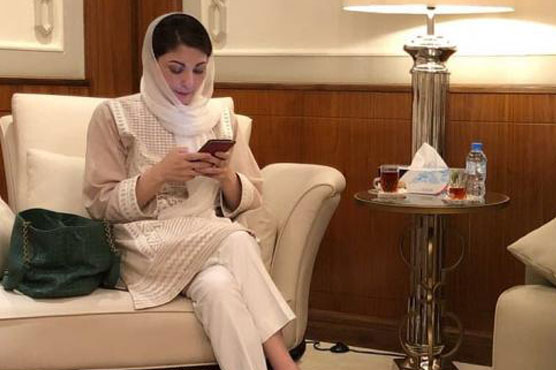 Junaid Safdar, son of Maryam Nawaz is handling her twitter account
ISLAMABAD (Dunya News) – For the first time in a week a tweet was posted from the official Twitter handle of Maryam Nawaz, daughter of former prime minister and Pakistan Muslim League-Nawaz (PML-N) supremo Nawaz Sharif, who was arrested and jailed in connection with Avenfield reference.
The first tweet stated that from her handle ever since her arrest is a snippet from a revolutionary poem by Faiz Ahmed Faiz.
According to Dunya News sources, Junaid Safdar, son of Maryam Nawaz is handling her twitter account.
The tweet, posted from the revolutionary poem written in Urdu.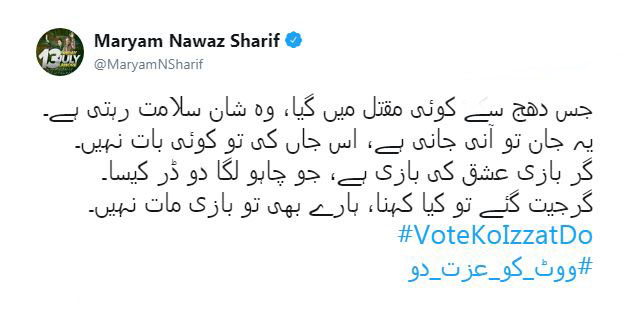 Maryam Nawaz was arrested along with her father Nawaz Sharif on July 13 from Lahore airport, minutes after they landed.
It is pertinent here to mention that former prime minister Nawaz Sharif, Maryam Nawaz and Captain Safdar were convicted and sentenced to prison in absentia for ten years, seven years and one year respectively, in Avenfield verdict that is likely to further disrupt an already chaotic campaign for national elections this month.
Maryam Nawaz and Captain (r) Safdar, who were candidates for the forthcoming general elections were also disqualified from contesting elections for 10 years each.
The sentence and a fine of 8 million pounds, or $10.6 million, came almost a year after Supreme Court removed Sharif from office and less than five months after the court barred him from holding office for life.
Nawaz Sharif was convicted under section 9(a)(5) of the NAB ordinance.
The case stemmed from the Panama Papers leak that disclosed expensive and undeclared property owned by the Sharif family in London.
Safdar was arrested by the NAB authoritites in Rawalpindi on July 9 while Nawaz Sharif and Maryam were taken into custody by the officials few minutes after their flight landed at Lahore's Allama Iqbal International Airport on Friday night and shifted to Adiala Jail.