NA-57 Murree: Appellate tribunal disqualifies Shahid Khaqan Abbasi for life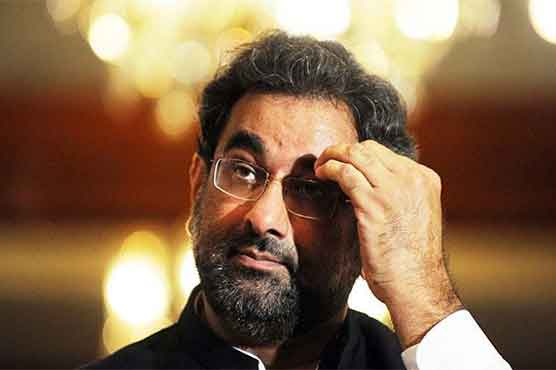 Abbasi says he has not concealed any information
ISLAMABAD (Dunya News) – An appellate tribunal on Wednesday disqualified former prime minister Shahid Khaqan Abbasi for life from contesting election from NA-57 Murree.
The eight-page verdict issued by Justice Ibadur Rehman Lodhi declared that Shahid Khaqan Abbasi is not eligible to become Member of Parliament under Article 62 (1) (F) of the constitution as he is not Sadiq and Amin.
The verdict says that Shahid Khaqan Abbasi declared the value of his F-7/2 house in Islamabad as three hundred thousand rupees in order to obtain a loan of 25 million rupees.
He also under declared his assets in nomination papers which is a clear discrepancy in oath of Shahid Khaqan Abbasi.
The tribunal in its verdict stated that the former premier concealed facts and didn't provide all information, however, disqualified Abbasi for life from contesting elections from NA-57 Murree.
Talking to media, ex-PM Abbasi said that he accepts appellate tribunal's verdict, however, he would file an appeal challenging the ruling of the tribunal.
"I have not concealed any information," he said and added the allegations against him for hiding information are false.
Sources to the ECP said that Shahid Khaqan Abbasi can contest election from NA-53 and the verdict of the tribunal doesn t effect his candidacy from other constituency.
Read Also: Saaf pani scam: NAB arrests PML-N leader Qamrul Islam
Earlier, the appellate tribunal had rejected nomination papers of former prime minister Shahid Khaqan Abbasi from his home ground NA-57 Murree.
While announcing the verdict, Justice Ibad-ur-Rehman accepted all the objections of the plaintiff Masood Ahmad Abbasi and disallowed the ex-premier to contest the polls from this constituency.
Read Also: Qamarul Islam s arrest is regrettable: Nawaz Sharif
The claimant, in his plea, stated that Shahid Khaqan Abbasi has occupied small forest near Lawrence College while he had also mentioned wrong price of his F7-II house in the papers.
Meanwhile, the tribunal also suspended returning officer after he accepted his mistake.