Last Updated On 18 June,2018 11:07 pm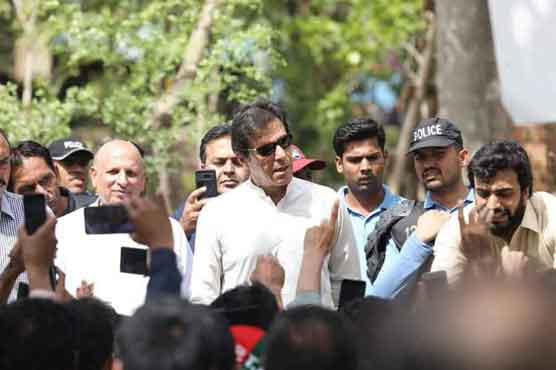 Won't change decision on tickets, Imran tells protesting party workers
ISLAMABAD (Dunya News) – Police contingents were deputed in and outside the residence of Pakistan Tehreek-e-Insaf (PTI) chairman Imran Khan after the enraged party workers of refused to budge despite Imran Khan's appeal.
PTI activists had staged ha protest demonstration in front of party chairman's residence in Bani Gala over issue of distribution of ticket for the forthcoming elections.
PTI chairman Imran Khan met the protesting party workers and made it clear that the decision of issuing tickets has been done by party's parliamentary members on the basis of merit.
He made it clear to the estranged party workers protesting in front of his house in Bani Gala that the decision won't change.
He said that he won't change the decision whether 10,000 activists protest in front of his house.
"If I change my decision today because of you, tomorrow more people will come here," Khan added.
Party workers complained of not awarding tickets to took part in the party's membership campaign to which the PTI chairman urged the activists to submit an application, adding that he will sit with his board and decided on the issue.
Later, the enraged protesting party workers refused to budge