High Commissioner Sohail Mahmood hosts traditional iftar in New Delhi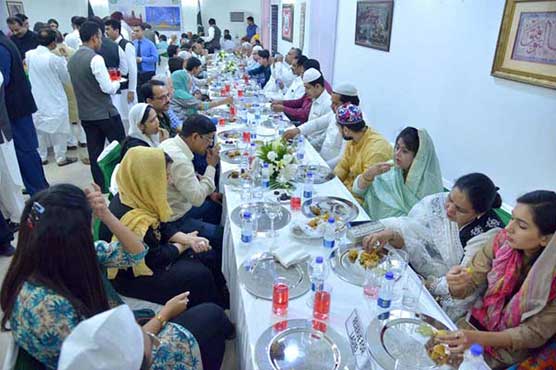 Halls walls were decorated with beautiful calligraphic renditions of Quranic verses
ISLAMABAD (APP):Pakistan's High Commissioner to India Sohail Mahmood hosted the traditional Iftar at the Pakistan High Commission in New Delhi on Friday.

The guests included people from all walks of life — including political figures, community leaders, Sajjadah Nasheens of several holy shrines in India, senior representatives of Kashmiri parties, academics, writers, journalists, artists, civil society activists, youth, Pakistani students, and other notables, a message received here Saturday said.

In his interaction during the Iftar, High Commissioner Sohail Mahmood warmly welcomed the distinguished guests and extended special greetings for Ramadan — the blessed month that inculcated the spirit of selflessness, sacrifice and solidarity towards fellow human beings.

The Iftar hall had a special ambiance — as its walls were decorated with beautiful calligraphic renditions of Quranic verses while recitation of the Holy Quran by known Qaris filled the air waves.

During the event, the Sajjada Nasheens from Ajmer Sharif and Hazrat Nizamuddin Auliya (RA) presented dastar and traditional chaddar to High Commissioner Sohail Mahmood.

The traditional Iftar is hosted every year at the Pakistan High Commission, New Delhi, to celebrate this blessed month and promote the message of peace and harmony amongst the people of South Asia.