Twitter lauds eminent academic and analyst Dr.Hasan Askari as interim CM Punjab appointee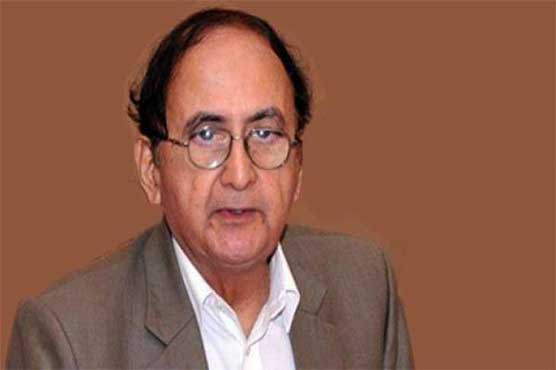 ECP finalized Hassan Askari as new caretaker CM Punjab for the upcoming 2-months interim period
(Web Desk) After many futile meetings of opposition and government, even no accord in parliamentary committee and a long hue and cry for the selection of the candidate, ECP on Wednesday finalized the eminent scholastic and analyst Dr. Hassan Askari Rizvi as the new CM Punjab for the upcoming two-month interim period.
During a press conference, ECP officials said that the name was selected after consultation in a meeting chaired by Chief Election Commissioner (CEC) Sardar Raza Khan and also attended by all four ECP secretaries.
Dr Hassan Askari Rizvi and Ayaz Amir were the nominees of former opposition while the Ex Punjab government has nominated former naval chief Admiral Muhammad Zakaullah and Justice (retd) Sair Ali for the caretaker Punjab CM.
As soon as his name was announced by the ECP officer, many high-up figures including journalists, media persons, politicians, academics and others took to the twitter. Mainly, many of them expressed their satisfaction while few also uttered their reservations over the selection of comparatively less controversial figure than the rest of the names proposed by both, the former opposition party PTI and former government party PMLN.
Well-known Senior Journalists like Raza Rumi, Farrukh Patafi, Iftikhar Ahmed, Ajmal Jami, Umer Cheema and Talat Hussain among others took to the twitter and said,
— Raza Ahmad Rumi (@Razarumi) June 7, 2018
— Farrukh K. Pitafi (@FarrukhKPitafi) June 7, 2018
— Iftikhar Ahmad (@jawabdeyh) June 7, 2018

— Ajmal Jami (@ajmaljami) June 7, 2018

— Umar Cheema (@UmarCheema1) June 7, 2018

— Murtaza Ali Shah (@MurtazaViews) June 7, 2018
— Syed Talat Hussain (@TalatHussain12) June 7, 2018
A hashtag #HassanAskari has been trending since his name was announced as a caretaker CM Punjab appointee. Laudatory messages as well as messages delineates reservations are pouring in over social media.
— XULQI MOON (@XULQIMOON) June 7, 2018

— Ammara Ahmad (@ammarawrites) June 7, 2018

— Abdullah Khan (@Abdullah_KhanG) June 7, 2018

— Adeel Azhar (@adeel_azhar) June 7, 2018
PTI welcomed Dr. Hassan Askari being appointed as interim CM Punjab while aggrieved PMLN relatively reacted austerely.
— Fawad Hussain (@fawadchaudhry) June 7, 2018

— Maiza Hameed (@MaizaHameed) June 7, 2018

The recently appointed interim Chief Minister of Punjab Dr. Hassan Askari in an exclusive talk with Dunya News expresses his determination to conduct timely free, fair and transparent general elections 2018, in the most populated province of the Country.