Last Updated On 06 June,2018 04:43 pm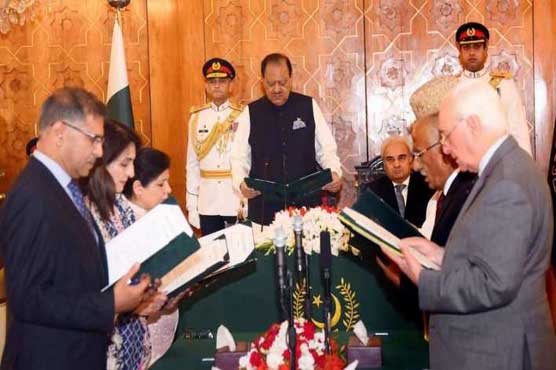 The federal ministers inducted in the caretaker cabinet are veteran and have proficiency in their re
(Web Desk) - The six-member caretaker cabinet has finally taken oath for its two-months interim period on Tuesday and meanwhile, is all set to run the government affairs and conduct a free and fair general elctions 2018. President Mamnoon Hussain administered the oath to the newly formed caretaker cabinet in the ceremony held at Presidency. The Caretaker Prime Minister Justice Rtd. Nasir-ul-Mulk along with top echelon of the government officials were present at the ceremony.
This recently formed interim federal cabinet comprises of prominent and proficient personalities such as Abdullah Hussain Haroon, Muhammad Azam Khan, Dr. Shamshad Akhtar, Bar. Syed Ali Zafar, Muhammad Yousaf Shaikh and Mr. Roshan Khursheed Bharucha.
The federal ministers inducted in the caretaker cabinet are veteran and have proficiency in their respective portfolios assigned to them:
Following is a quick glance at their noticeable expertise and the accomplishments:
---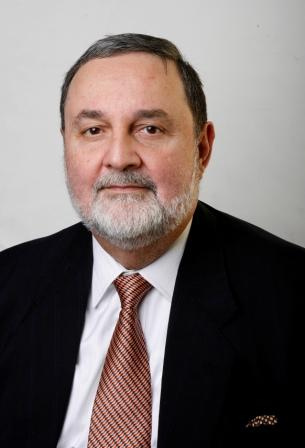 ---
ABDULLAH HUSSAIN HAROON
Haroon has been given the charge of the Ministry of Foreign Affairs and the National Security Division. His additional ministerial portfolios include Defence and Defence Production.
He is a famous businessman, social activist and a high up figure.
He has served as Member Provincial Assembly of Sindh, Speaker, Provincial Assembly of Sindh (1985–1986); and leader of opposition, Provincial Assembly of Sindh (1986–1988).
He also worked as Consultant, Pakistan Herald Publications, Member to the Board of Governors, delegate to the United Nations General Assembly, President,Pakistan-China Business Forum (1999–2004) and a Permanent Representative of Pakistan to the United Nations, replacing veteran Munir Akram in 2008.
---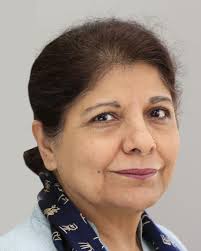 ---
Dr. SHAMSHAD AKHTAR
Dr. Akhtar has been assigned the ministries of Finance, Revenue and Economic Affairs, Statistics, Planning, Development and Reform. She is also handed the additional charges of Commerce and Textile and Industries and Production.
She has a broad based development experience at leading multilateral.
Her experiences includes services as United Nations Executive Secretary, UN Secretary General's G20 Sherpa, Vice President, Middle East and North Africa (MENA), The World Bank, speaker, leading policy dialogue with Prime Ministers, Cabinet members and development partners and participated in a number of strategic forums including the World Economic Forum and other international events, Sr. Special Advisor to President of Asian Development Bank (ADB), Sr. Special Advisor to President of Asian Development Bank (ADB).
Also served as Governor, State Bank of Pakistan-SBP (2006 to January 2009)–Federal Minister rank and representing Pakistan as Governor of IMf, Chairperson of the Central Board of Director of the SBP and the Banking Services Corporation (as subsidiary of the central bank) as well as the National Institute of Banking and Finance and the Institute of Banking of Pakistan.
---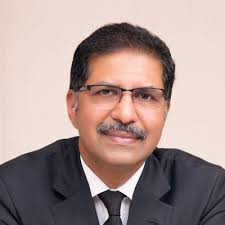 ---
BARRISTER SYED ALI ZAFAR
Barrister Syed Ali Zafar is assigned as Minister of Information Broadcasting.
He is an Advocate Supreme Court and High Courts of Pakistan and was the President of Supreme Court Bar Association of Pakistan during 2015-2016. Also, assisted in and contributed in the drafting of various laws, both at the federal and provincial levels.
He is also serving as President of Pakistan chapter of SAARC Law and a vice-president of Human Rights Organization of Pakistan
He has acted as arbitrator in various international arbitrations under the auspices of various bodies including International Chambers of Commerce (ICC) and the London Court of International Arbitration (LCIA). He also regularly lectures as an academic in various law colleges in Pakistan and abroad and regularly judges legal moot competitions.
---
PROF. MUHAMMAD YOUNAS SHAIKHH
Prof. Muhammad Yusuf Shaikh has been assigned as Caretaker Minister for Federal Education and Professional Training with additional Portfolios of the Ministry of National Health Services, Regulations and Coordination and Ministry of Religious Affairs and Interfaith Harmony.
He is an educationist and served as General Staff Officer and Instructor at Pakistan Military Academy (PMA) Kakul, Principal/Project Director Public School Sukkur, Principal/ Project Director Public School Gadap Karachi, Principal/Project Director Sindh Madressatul Islam, Karachi and Principal/PD Public School, Hyderabad.
Also worked as Founder Principal/Project Director Cadet College Larkana, Chairman Larkana District Historical Society, Member Pakistan Institute of International Affairs Karachi, Member Sindh Madressa Board, Member Board of Governors Cadet College for Girls Nawabshah.
---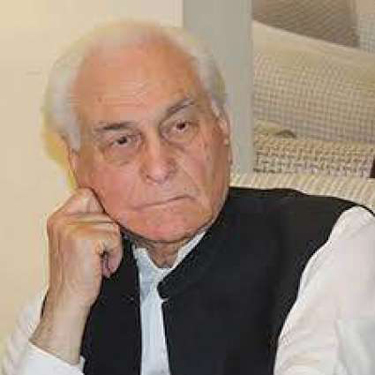 ---
MUHAMMAD AZAM KHAN
Khan is to head Interior Ministry, Capital Administration and Development Division and the Ministry of Narcotics.
He is a former bureaucrat and Minister for Finance, Planning & Development, also served in the capacity of UNDP Advisor, National Project Coordinator UNDP for Lachi Poverty Reduction Project. (LPRP).
He worked as Chairman, Pakistan Tobacco Board, Secretary, Ministry of Religious Affairs and Chief Secretary, Government of KPK.
He also served as a Vice President Children's SOS Villages of Pakistan, Peshawar, Director, Imran Khan Foundation (Flood Relief and Rehabilitation), Member, National Oversight Disaster Management Council (NODMC) Pakistan and Chairman, Supreme Court Flood Commission Enquiry.
---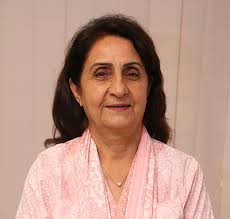 ---
MS. ROSHAN KHURSHEED BHARUCHA
Ms. Bharucha is given the charge as Caretaker Minister for Human Rights, Kashmir Affairs, Gilgit Baltistan, and States and Frontier Regions.
She has held public office / official positions as Caretaker Minister Balochistan 2007-08 and Member Senate of Pakistan from 2003-06.
Ms. Bharucha has served as Chairperson Senate Standing Committee on Health, Member Senate Standing Committee on Sports, Culture, Tourism and Youth Affairs, Member Senate Standing Committee on Education, Science and Technology, Member Senate Functional Committee on Government Assurance.
She also served as Provincial Minister Balochistan (June 2000) with the portfolios of Social Welfare, Informal Education, Human Rights, Youth, Information, Population, Information Technology, Manpower Training, Sports, Archives and Culture.
Ms. Bharucha, who has also held honorary positions for international organizations and bodies, has a lot of experience in diverse areas including teaching, women welfare, sports, information technology, special education, culture etc.