Last Updated On 02 June,2018 10:24 am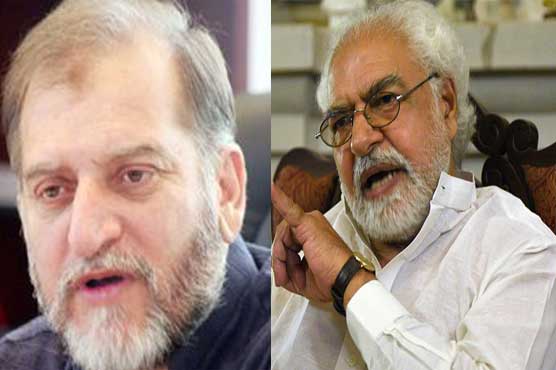 Mahmood-ur-Rasheed had proposed the names of Orya Maqbool Jan and Yaqoob Tahir
LAHORE (Dunya News) – Pakistan Tehreek-e-Insaf (PTI) on Friday again taking U-turn on the issue of caretaker Punjab CM, once again replaced the name withdrawn the Orya Maqbool Jan's name and proposed Ayaz Amir's name for the top slot.
PTI spokesman Fawad Chaudhry took to the Twitter to propose the names of Ayaz Amir, Dr Hassan Askari and Yaqoob Tahir, while party leader Mahmood-ur-Rasheed had given the names of Orya Maqbool Jan and Yaqoob Tahir to the media.
Earlier, Leader of Opposition in Punjab Assembly Mian Mahmood-ur-Rasheed held a meeting with Punjab Assembly Speaker Rana Muhammad Iqbal and discussed matters pertaining to caretaker CM.
Punjab Assembly Secretary Rai Mumtaz briefed about the legal position regarding the Caretaker CM, Parliamentary Committee and other affairs.
Talking to media, Mahmood-ur-Rasheed hoped that the matter would go the Parliamentary committee, adding that a meeting will be held with Punjab CM Shehbaz Sharif on Sunday.
He said that he has given the names of Yaqoob Izhar and Orya Maqbool Jan for the top slot and hoped that a consensus would be reached in the next few days.
On the other hand, famous columnist Orya Maqbool Jan said that he has been contacted by the PTI and told that his name was being nominated for the caretaker CM slot.