SC annuls disqualification verdict against Khawaja Asif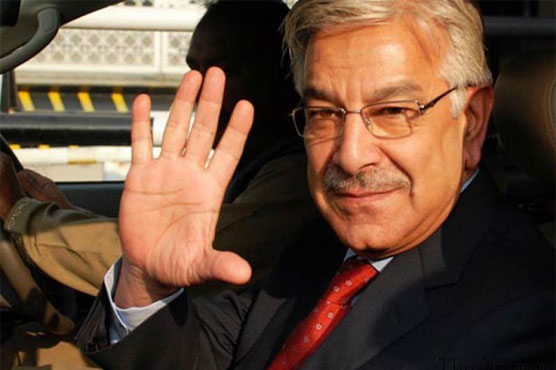 A three-member bench of Supreme Court headed by Justice Umer Ata Bandial heard the case.
ISLAMABAD (Dunya News) - Supreme Court on Friday dismissed the disqualification verdict of Islamabad High Court (IHC) against former foreign minister Khawaja Asif.
A three-member bench of Supreme Court headed by Justice Umer Ata Bandial heard the case.
While announcing a short verdict comprising of two sentences, the apex court ruled that Khawaja Asif's plea against the disqualification veridct of IHC has been approved.
The detailed veridct will be issued later in which the reasons will be mentioned, added the judge. Following the verdict, Khawaja Asif can now contest the upcoming general elections 2018.
The PML-N stalwart took to twitter and expressed gratitude to Allah and the judiciary.
— Khawaja M. Asif (@KhawajaMAsif) June 1, 2018
During the hearing, Pakistan Tehreek-i-Insaf (PTI) member Usman Dar's lawyer argued that Khawaja Asif continued employment in a foreign company despite being a federal minister. "The move is a conflict of interest," he asserted.
"Can disqualification occur due to conflict of interests? There has been a lot of discussion on this topic in the world. Trump's daughter performs duties in government affairs. His son-in-law runs his own business. Should a person be disqualified over conflict of interest or a public official be warned?" asked the judge.
Khawaja Asif's lawyer adopted stance that the burden of evidence is on the shoulders of petitioner in article 184 (3).
"Article 62(1)(f) of the constitution is not applicable on every error or mistake. Disqualification can be handed where the facts are accepted. It is not necessary to reveal the source of assets according to law. Only the savings from the salary will be the asset," he maintained.
"Khawaja Asif revealed Rs68 lac in 2012 and Rs7 lac in 2013 as foreign income. Did he tell anywhere that his salary of 2014 has been spent?
Senior lawyer Muneer A. Malik maintained that a difference exists between revealing assets in nomination papers and annual returns. Khawaja Asif would have told this if Election Commission had issued him a notice, he added.
"What do you mean by Election Commission? Shouldn't Khawaja Asif had told about his salary in IHC?" inquired Justice Umar Ata Bandial.
"Shopping for the wedding of Khawaja Asif's son was done from Dubai in 2014. He also spent money on his wife's treatment. The company where he was employed has no link with Pakistan. He also received bonus besides salary. As per RUPA law, only assets and liabilities have to be revealed. He has not been accused of corruption and misuse of his authority. Article 62(1)(f) is only applicable if a flaw exist in the character," told the lawyer.
---
Disqualified for life
---
On April 27, IHC disqualified Foreign Minister Khawaja Asif from the parliament under Article 62(1)(f). A three-member bench, headed by Justice Athar Minallah, had reserved verdict on PTI leader Usman Dar's plea on April-10.
The bench disqualified Khawaja Asif in the following words: "We declare that the Respondent was not qualified to contest the General Election of 2013 from NA-110 as he did not fulfill the conditions described under Article 62(1)(f) of the Constitution, read with section 99(1)(f) of the Act of 1976. The petition is, therefore, allowed. The Registrar of this Court is directed to send certified copy of this judgment to the Election Commission for de-notifying the Respondent as Member of the National Assembly of Pakistan. A copy is also directed to be sent to the Speaker of National Assembly of Pakistan for information."
Dar had lost elections to Asif in May-2013. The PTI leader moved court against Asif relying on apex court's landmark July-28 judgment pertaining to receivable salary under which the SC had ousted ex-premier Nawaz Sharif.