Last Updated On 22 May,2018 10:27 am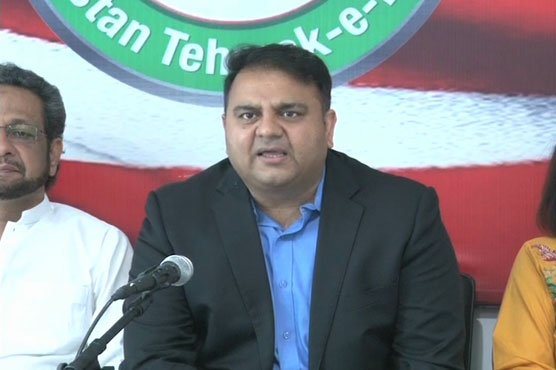 Fawad was addressing presser in Islamabad.
ISLAMABAD (Dunya News) – Pakistan Tehreek-i-Insaf (PTI) on Monday dismissed names tabled by Pakistan Peoples Party (PPP) for the post of caretaker premier, reported Dunya News.
As per details garnered, PTI spokesperson Fawad Chaudhry held a presser here in federal capital today stating that party's top brass had unanimously rejected the names proposed by Zardari-led PPP for caretaker prime minister.
"PPP has proposed two names [Zaka Ashraf and Jalil Abbas] for caretaker premier. We will have to wait and look that whether Abbasi [incumbent premier] accept or reject these names", stated Chaudhry while adding at the same time that names proposes by PTI were more suitable.
While lambasting ruling Pakistan Muslim League Nawaz (PML-N), Chaudhry taunted that lies are as essential for PML-N as oxygen for living beings.
Earlier, PPP had finalized the names of Zaka Ashraf and Jalil Abbas Jilani for caretaker PM.
According to information received by Dunya News, Opposition Leader has given these names to PM Abbasi after consultations with both the Chairman Bilawal Bhutto and Co-Chairman Asif Zardari.
Reportedly, Asif Zardari phoned both the nominees separately and informed them, expressing hope that no one would have any objections to them for they are experts in economics, banking and administrative affairs.
Zaka Ashraf has previously served as Chairman of PCB while Jalil Abbasi Jilani has served as Pakistan s ambassador to US.