Last Updated On 21 May,2018 12:06 pm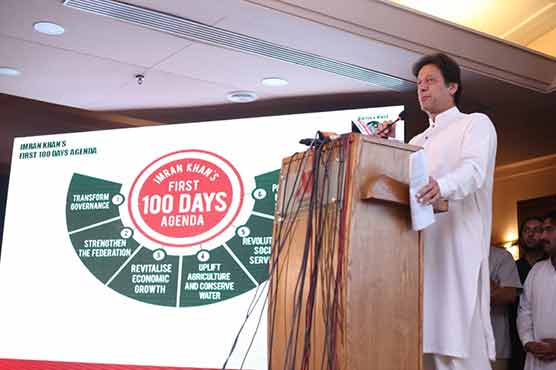 A ceremony was arranged in Islamabad today.
ISLAMABAD (Dunya News) – Pakistan Tehreek-i-Insaf (PTI) on Sunday unveiled a 100-day plan. The event commenced with PTI vice-president Shah Mehmood Qureshi addressing the audience in Islamabad.
The 100-day plan includes judicial reforms, depoliticization of police, tax reforms, health emergency, education emergency and reforms in agriculture sector.
While addressing the PTI's 100 days plan ceremony, Shah Mehmood Qureshi claimed to initiate development programs and to bring benefits of national development to people of Balochistan
He assured to resolve water and power crisis. He expressed intentions to announce a federal package for Karachi and to grant representation to the Federally Administered Tribal Areas (FATA) in National Assembly.
Shah Mehmood criticized the opposition and said Pakistan Muslim League Nawaz (PML-N) is not trustworthy.
Imran Khan—while addressing ceremony—stated, "I want to first and foremost congratulate Taimur Khan Jhagra; for the first time in our 22 year history we are going into an election with so much preparation. We have a 100 day plan, and we have the valuable experience of governing a province like Khyber Pakhtunkhwa (KPK)".
"The actual purpose of this is that when we are at the peak of our strength in power, we need to take the most difficult decisions that reflect the direction in which we are heading", stated PTI chief.