Altercation between PTI, PML-N lawmakers in PA session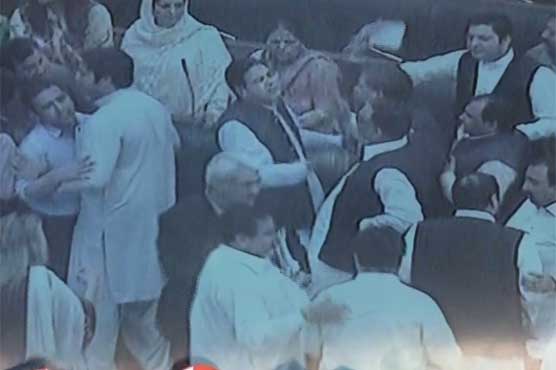 The brief spat between PTI and PML-N lawmakers exchanged harsh comments
LAHORE (Dunya News) – An altercation was seen between members of Pakistan Tehreek-e-Insaf (PTI) and Pakistan Muslim League-Nawaz (PML-N) in the Punjab Assembly while the session was underway on Thursday.
According to details, the brief spat between PTI and PML-N lawmakers exchanged harsh comments and broke out following a protest by members of the opposition party during the the final session of Punjab Assembly over former prime minister and PML-N supremo's statement pertaining to 2011 Mumbai attacks.
Minority member Punjab Assembly Shahzad Munshi, Tariq Gull and others ran towards the opposition benches and exchanged hot words but the scuffle was intercepted by their colleagues.
Punjab Assembly speaker also ordered to send some members out of the house.
Later, PTI's Arif Abbasi and PML-N's Waheed Gul apologized on the floor of the house following which normalcy returned to the legislature.
Earlier, the former prime minister had revealed in an interview with Dawn newspaper that those who attacked hotel in Mumbai in 2008 hailed from Pakistan.
Nawaz Sharif asked if we should allow non-state actors "to cross the border and kill 150 people in Mumbai".
He said: "Militant organisations are active. Call them non-state actors, should we allow them to cross the border and kill 150 people in Mumbai? Explain it to me. Why can't we complete the trial?" — a reference to the Mumbai attacks-related trials which have stalled in a Rawalpindi anti-terrorism court.
Meanwhile, the interview has stirred a storm as Indian media has turned his statement into a charge sheet against Pakistan for being involved in the Mumbai attacks.
On the other hand, a German journalist, Elys Davidson in his book last year revealed that the Mumbai attack was masterminded by Israel and America and the facts were distorted by the Indian government.
According to the book, many witnessed saw Ajmal Kasaab and others gathering in Nariman House two days before the incident, but the Indian investigative agencies never included their statements in the investigation report.