NAB chief's allegation of money laundering is serious issue: Nawaz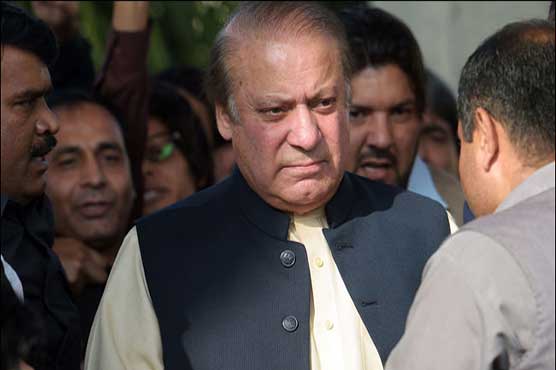 CEC meeting has been summoned to discuss allegations, Nawaz Sharif.
ISLAMABAD (Dunya News) – Ex-prime minister Nawaz Sharif on Friday has said that he was ousted from premiership of country and presidency of Pakistan Muslim League-Nawaz (PML-N) for life.

Informally talking to media outside accountability court, Nawaz Sharif said that those who disqualified him, now have to find out the way. This has never happened in even martial law era, he added.
Responding to a question, Sharif said that Central Executive Committee (CEC) meeting was summoned to discuss allegations leveled by National Accountability Bureau (NAB) Chief. It's a serious matter due to which we are giving it attention, he continued.
Meanwhile, the ex-PM remained silent over questions regarding Chief Minister of Punjab (CM) Shehbaz Sharif's 'alien statement' and matter of former Interior Minister Chaudhry Nisar.

Earlier, Nawaz Sharif had expressed his concerns over NAB's press release issued on May 8 and asked its chairman to present evidence in the money laundering allegations against him in 24 hours or tender resignation.
"I have pointed towards the biased attitude of NAB several times. Chairman NAB's press release confirmed my statements. The report of World Bank was made foundation of the case while distorting the facts," he asserted.
"A three-time prime minister has been accused of transferring $4.9bn to Indian exchequer and committing money laundering. The nature of the allegation is serious and shameful. Ignoring it means to risk the democratic system," said Nawaz.

The former premier affirmed that he will not apologize or ask for mercy if jailed.