Last Updated On 10 May,2018 02:55 pm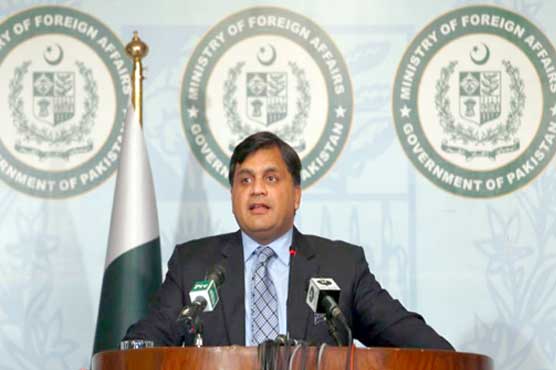 Spokesman said Indian atrocities cannot subdue the courage and determination of the Kashmiri people.
ISLAMABAD (Web Desk) – Pakistan has urged international community to fulfill its obligations for resolution of the Kashmir dispute and mitigating the sufferings of Kashmiri people in Indian Occupied Kashmir.

This was stated by Foreign Office Spokesperson Dr Muhammad Faisal during his weekly news briefing in Islamabad on Thursday.

The spokesperson said Pakistan continues to extend its full support to the Kashmiri people and has raised the issue at every regional and international forum.

He said Indian atrocities cannot subdue the courage and determination of the Kashmiri people.

Earlier, Foreign Office (FO) issued a press release, stating that the government and people of Pakistan strongly condemn the continuing use of brutal and indiscriminate force by the Indian occupation forces that has resulted in the martyrdom of 14 Kashmiris in different districts in the Indian Occupied Kashmir (IOK) since 5 May 2018.

The Kashmiri youth have been the deliberate target of this mindless killing spree, unleashed by the Indian occupation forces.

The people of Indian occupied Jammu & Kashmir continue to endure untold sufferings and face gross and systematic violations of their human rights -- manifest in incarcerations, torture, rape, cordon-and-search operations, use of pellet guns, and extra-judicial killings.
Their leaders remain under continued illegal house arrests and detention. For their part, the innocent, unarmed and defenceless Kashmiris stage peaceful protests, which are invariably countered with use of lethal weapons and disproportionate force by the Indian security personnel.
Their mass participation in the funerals of the martyrs is a clear manifestation of their defiance as well as the determination to free themselves.