Last Updated On 09 May,2018 10:41 am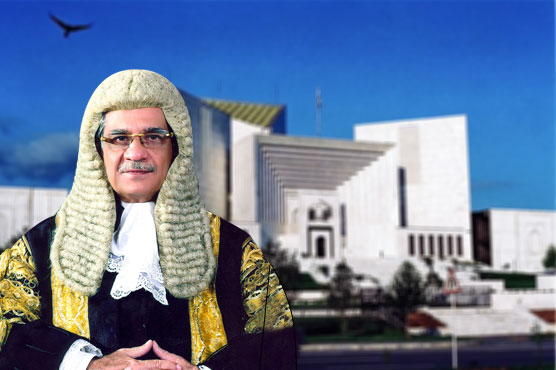 The three-member bench will take up the case on Sunday
ISLAMABAD (Dunya News) – Chief Justice of Pakistan (CJP) Mian Saqib Nisar on Tuesday took suo motu notice of undue taxes on petroleum products.
A three-member bench of the apex court headed by Justice Mian Saqib Nisar has been formed to take up the case.
Justice Saqib Nisar also issued notices to Ministry of Finance, Ministry of Petroleum, Federal Board of Revenue (FBR) and Attorney General in this regard.
The three-member bench will take up the case on Sunday.
Earlier, a bench headed by Chief Justice Mian Saqib Nisar while hearing of the suo motu notice of high levy being charged on mobile phone cards in the country the Supreme Court summoned reply from provinces, mobile companies and Federal Board of Revenue over sales tax and service charges cut on mobile phone cards.
During the proceedings, Attorney General told court that the consumers are paying 42 percent tax, including 19.5 percent FED, 12.7 percent withholding tax (WHT) and 10 percent service/ maintenance charges on every Rs.100 card.
The CJP asked, "How WHT is being taken over the use of mobile phone? The WHT should be explained in the court." "WHT is not received from government and diplomats," Attorney General told court.
"How will those who do not pay the taxes take it back? Why WHT has been imposed on those people who are not eligible to pay tax? Only that person will pay WHT who is entitled to give tax," remarked the Chief Justice.
"Why service charges are received?" asked Justice Ijazul Hassan. "The companies can better explain this," replied the Attorney General.
FBR told court that the provinces are receiving the sales tax. "Under which law are they deducting 19.5 percent sales tax? Isn't receiving double tax exploitation? The provinces should elucidate it in the court," directed the CJP.
Justice Ijazul Ahsan remarked that service charges are also a type of tax. "42 percent amount is subtracted as tax. It is illegal withdrawal of money from the public," he said.
"Wait till I review the prices of petrol and diesel. The tax on them will also be inquired," asserted the CJP.
The court while concluding the arguments adjourned the hearing for two weeks.