Last Updated On 30 April,2018 10:08 pm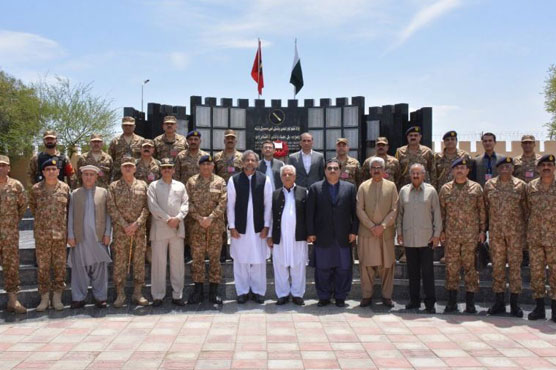 PM Abbasi lauded brave tribesmen for their unwavering support in fight against terrorism
MIRANSHAH (Dunya News) – Prime Minister Shahid Khagan Abbasi and Chief of Amy Staff (COAS) General Qamar Javed Bajwa on Monday visited Miranshah and Ghulam Khan areas of North Wazirstan Agency.
In a statement issued by the Inter-Services Public Relations (ISPR), PM Shahid Khaqan Abbasi lauded brave tribesmen for their unwavering support in fight against terrorism and ridding these areas from terrorists.
He said that mainstreaming of FATA is key to its long term progress and prosperity for which government is working in line with aspirations of the people of FATA.
The prime minister said that these social-economic projects are just the beginning and many more such projects are in the pipeline for Federally Administered Tribal Areas (FATA) in addition to the ones which have been completed or are in progress across FATA.
"Rehabilitation of TDPs and socio-economic uplift of FATA is priority objective of the government, he said.
During the visit, the prime minister inaugurated newly constructed Miranshah Market Complex by Pakistan Army Engineers which includes 1344 shops, parks, car parking, solar lights, driveways and water supply network.
PM Abbasi also inaugurated Ghulam Khan Trade Terminal, North Wazirstan Agency as part of Central Trade Corridor.
The newly constructed trade terminal and communication infrastructure in tribal areas will connect this market complex with China-Pakistan Economic Corridor (CPEC) project at Dera Ismail Khan and will have its share in national and regional trade routes and commercial dividends awaiting a new chapter of prosperity and economical uplift of the area.
Governor Khyber Pakhtunkhwa, ministers, senators and Corps Commander Peshawar were also present during the visit.
Earlier, on arrival in Miranshah, PM laid floral wreath at Shuhada monument and offered Fateha for martyrs of Pakistan who have rendered sacrifices for restoration of peace and stability.