CJP Nisar hints at reviewing new amnesty scheme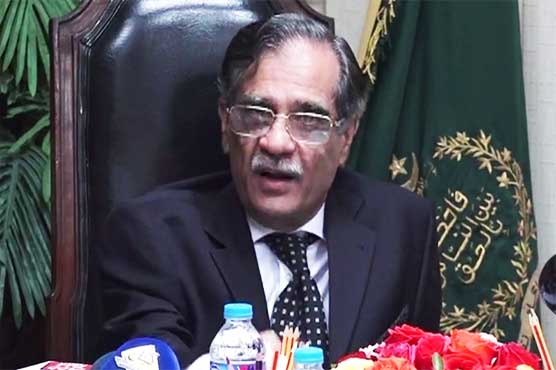 CJP said that he will not let anyone to misuse government assets.
ISLAMABAD (Dunya News) – Chief Justice of Pakistan (CJP) Mian Saqib Nisar on Thursday hinted at reviewing the new amnesty scheme introduced by the incumbent government.

Hearing a case pertaining to ownership of state land, CJP directed to line up the issue related to foreign assets for hearing during which, amnesty scheme will be reviewed.

CJP further said that he will not let anyone to misuse government assets and announced to take stern action against those having foreign bank accounts.

Earlier, Prime Minister Shahid Khaqan Abbasi had announced amnesty scheme for the non-taxpayers and said that the politicians could not take advantage of the scheme. He said that paying tax was the duty of the every citizen and not paying taxes was a crime.

The prime minister said that only 1.2 million people are filer income tax return out of a population of 207 million, adding that only 700,000 were paying tax while others only filed returns and paid no income tax.

"The maximum rate of income tax was being reduced from the existing 30% to 15%, Abbasi said and added annual income of upto Rs1.2 million would be exempted from the income tax.

He said that an individual earning Rs4.8 million per annum will pay 15 percent tax, adding that the rate of income tax for the income bracket of 2.4 to 4.8 million rupees would be 10 percent. There would be five percent income tax on income falling between 1.2 to 2.4 million rupees annually.

Later, Pakistan Tehreek-e-Insaf (PTI) and Pakistan Peoples Party (PPP) had refused to accept the scheme in the National Assembly session.