Last Updated On 11 April,2018 05:03 pm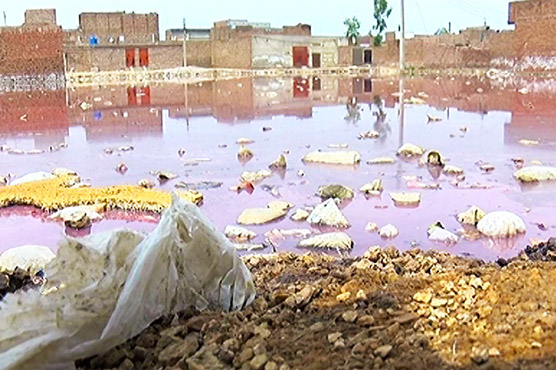 Not only is the water dangerous for dwellers, it also has the potential to become a breeding ground for water-borne diseases. Photo: Dunya News
(Dunya News) – Citizens of a residential area in Faisalabad are frustrated over the mismanagement of city administration for ignoring the seepage of sewage water in their area.
The residential area of Thokar is a sad sight where residents at extreme health risks besides having lost thousands of worth of belongings in the leaked sewage water, which has accumulated outside their houses.
Not only is the water dangerous for dwellers, it also has the potential to become a breeding ground for water-borne diseases, leading to serious health risks if the concerned departments fail to take immediate action.
---
Animals are seen using contaminated water leaked from sewage. Photo: Screengrab

---
Despite written complaints sent to WASA not once but several times, there has been no notice of the plight of these people.
Speaking to Dunya News, frustrated residents say that besides the foul smell which makes it unbearable to live there, the stagnant water has also damaged their houses making their lives a living hell.
Some residents complained that the place has also become a breeding ground for mosquitoes, claiming that their children were getting sick and there was a huge shortage of clean drinking water in the area.
Residents of this textile hub of Punjab deserve better living conditions.
For more on this, watch a report by Dunya News below.
---
---